The biggest supermarket chains in HCM City have jumped on the no-waste bandwagon and started replacing plastic packaging with banana leaves.
Supermarkets use banana leaves, bagasse-made boxes for food packaging
Vietnamese supermarkets start saying no to plastic bags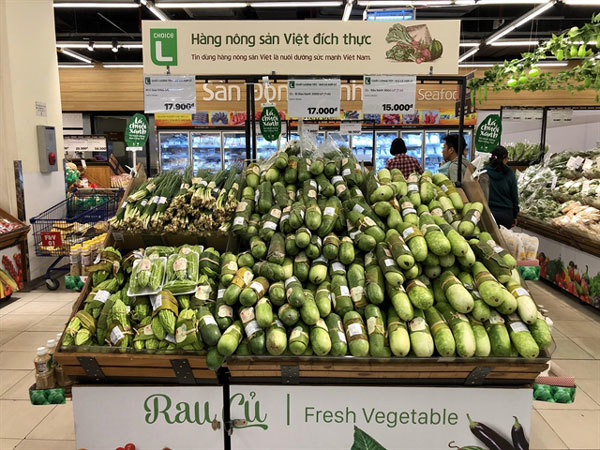 Lotte Mart has jumped on the plastic-reduction bandwagon and started replacing plastic packaging with banana leaves.
Vegetables such as squash, spring onions, maize and okra wrapped in banana leaves can be seen in the stores of the supermarket chains Saigon Co.op and Lotte Mart.
Le Minh Hieu, a representative of Saigon Co.op, said that many Co.opmart supermarkets, Co.op Xtra hypermarkets, Co.op Food stores and Co.op Smile convenient stores in HCM City are carrying out the practice.
"We don't charge more for vegetables wrapped in banana leaves. You might think that natural wrapping costs more, but, in fact, it doesn't," he said. "While we have to employ a machinery line for plastic packaging, banana leaf wrapping requires manpower," he explained, adding that banana leaves remain fresh for one to two days.
"Though only a part of Co.opmart Nhieu Loc's vegetable corner is covered with green packaging, we will scale up in the time to come," he said.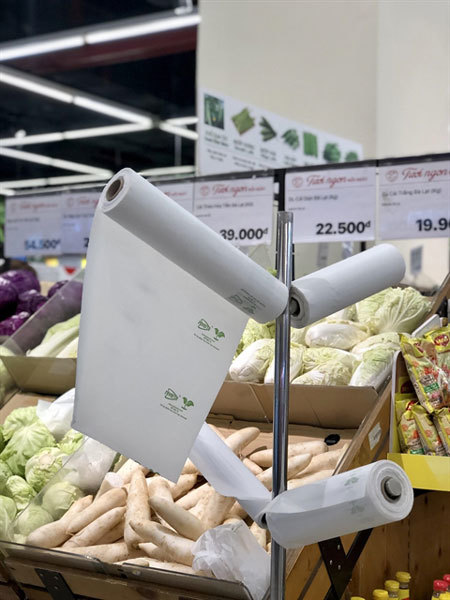 Biodegradable bags made from maize powder are offered to grocery shoppers.


Meanwhile, a representative of Lotte Mart said that only certain types of vegetables could be wrapped with banana leaves.
"Okra and spring onions tend to stay fresh longer than other types of vegetables," the representative said, adding that Lotte Mart will use banana leaves throughout its entire chain later this year, following a trial period in HCM City.
So far, social media support for banana leaf wrapping has been huge, with many teenagers and young adults posting their thoughts and shopping experiences on the internet. Plenty of them are surprised and pleasant to see this "green space".
"My initial reaction? Vegetables look so much lovelier when wrapped in banana leaves!" Van Anh, 25, who was shopping at Co.opmart Nhieu Loc, told Việt Nam News. "I first saw banana leaf wrapping at Rimping Supermarket in Chiang Mai, Thailand. And I never thought Vietnamese supermarkets would adapt it this soon. Bravo!"
Another consumer, Nam To, 28, noted that unlike plastic bags, banana leaves are 100 per cent organic, and are 100 per cent biodegradable. "They actually bring nutritional benefits to the soil in which it's buried!"
"Most of my foreign friends were amused when they heard of banana leaf wrapping," he said. "But Vietnamese people have traditionally used banana leaves to cover various types of food. Its sturdiness makes it an ideal form of packaging for fresh produce that sells quickly."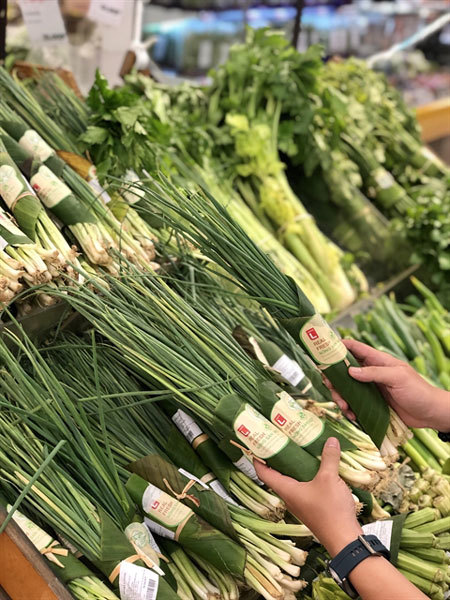 As banana leaves remain fresh for one to two days, they are suited for wrapping produce (like spring onions) that sell quickly. VNS Photos An Phuong


Banana leaf wrapping is one of several initiatives that Saigon Co.op has planned as it will also stop selling plastic straws in May.
Environmentally friendly paper and rice straws, together with reusable straws made from steel and glass, will instead be offered to shoppers, according to Saigon Co.op's latest statement.
While Saigon Co.op and Lotte Mart have recently applied new methods of packaging, other supermarkets such as An Nam and Mega Market have been known for some time for encouraging shoppers to carry their own bags or use paper boxes for purchased items.
"Mega Market charges for a large shopping bag, so it's better to bring your own tote bag or reuse the shopping bag that you had before," Nam said. "Whatever it its, I'm glad that most supermarkets in the city offer small biodegradable bags made with maize powder to shoppers."
According to experts, the shift toward eco-friendly materials is part of a growing Zero Waste movement around the world that seeks to eliminate non-biodegradable waste that is sent to landfills and contaminates ecosystems.
Besides big supermarket chains, many local grocery stores like Tiệm Rau Của Ba on Binh Thanh District's Nguyen Huu Canh Street have also embraced the movement. The store has introduced not only banana leaf wrapping but also woven bags and canvas totes made of 100 per cent cotton.
"Everyone should begin with small steps to protect the environment. Don't think that such actions need to be something huge! Instead, do small things and commit to them for a long time," Nguyen Anh Thao, owner of Tiệm Rau Của Ba, said.
Van Anh said: "I'm excited for the future! Pursuing less-plastic lifestyle for a while now, this little change makes my life so much easier!"
Vietnam, which generates about 2,500 tonnes of plastic waste per day, ranks fourth globally for the amount of plastic waste dumped into the ocean, according to the UN.
By An Phuong
VNS