The HCMC Department of Transport is mulling over a scheme to control emissions from scooters and motorbikes on a trial basis.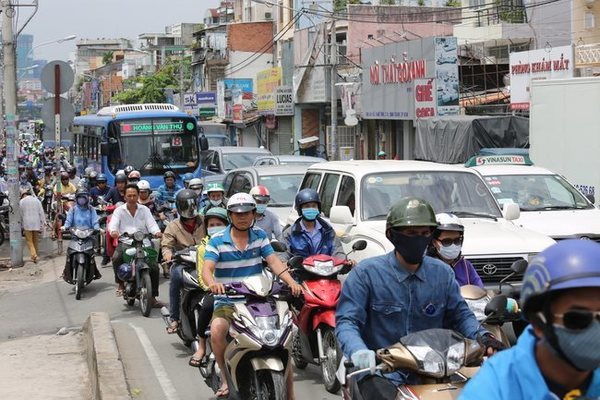 Scooter and motorbike users are stuck in a traffic jam on Xo Viet Nghe Tinh Street in HCMC. These vehicles account for a large proportion of vehicle emissions
As of August 18, there were nearly 7.89 million motor vehicles, including 7.2 million two-wheeled vehicles and more than 734,800 cars, registered in the city.
Air and noise pollution due to transport activities have grown. An increase in motor vehicles with poor emissions will affect the health of city dwellers, according to the department.
Given the circumstances, the department is devising a scheme to minimize air pollution caused by motor vehicles.
The department proposed the Vietnam Automobile Manufacturers Association and the Japanese motorcycle and automobile producer Honda Vietnam help the regulator complete a survey on the use of scooters and motorbikes in a number of locations. Citywide vehicle maintenance agents would be the target of the survey.
The two parties will work together to create policy solutions to curb vehicle emissions and later suggest funding sources for the survey.
Associate Professor Ho Quoc Bang, a researcher of air pollution in HCMC, stated at a roundtable on the environment in April that the city is suffering heavy air pollution, which affects the quality of life of the local residents. The air pollution will become worse if specific goals and actions are not taken in a timely manner.
He noted that traffic accounts for the largest proportion of emissions. For example, traffic activity makes up a whopping 99% of the city's total carbon dioxide emissions. 
Many two-wheeled vehicles using old engines and lacking maintenance are also a source of pollution, according to Hoang Duong Tung, former deputy head of the Vietnam Environment Administration.
Therefore, he called for the control of emissions from mobile waste sources, such as scooters and cars, with new emission standards such as Euro 2, Euro 4 (2017) and Euro 5 (2022). SGT

Hanoi and HCM City planned to deploy roadside emissions tests for vehicles in response to the declining air quality, the Ministry of Transport has announced.

Road transport makes up 85 percent of total emissions, an overwhelming proportion over other segments.

The Japan International Cooperation Agency (JICA) has advised real estate developers in HCM City to apply advanced technologies while constructing commercial buildings to reduce greenhouse gas (GHG) emissions.