HCM City should consider Industry 4.0 the basis of its development, and the Government should create favourable conditions for entrepreneurs to thrive, a seminar on promoting technology products heard.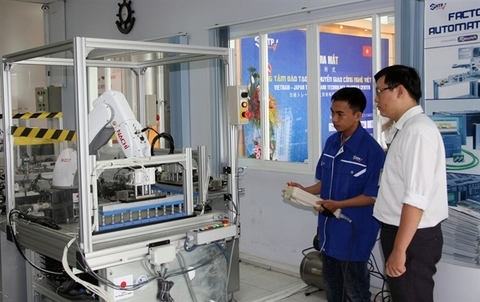 The automation workshop at the HCM City's Hi-tech Park.
Dao Ha Trung, chairman of the HCM City High Technology Association, told the seminar organised by the Department of Science, Technology and Environment that government agencies should adopt high technology in their activities.
The department and other relevant agencies should draft programmes to help government agencies embrace Industry 4.0, he said.
Dr Nguyen Ky Phung, deputy director of the department, said city authorities have launched programmes for investment promotion and policies to support the development of high technology.
But they have little impact on society since the business community pays little attention to the Government's support policies, he said.
Trung said the city would support the business community, especially investors and developers of hi-tech products.
By the end of last year, 11 companies in the city had been certified as using high technology.
Last March, the city announced the list of 43 hi-tech products prioritised for investment in electronics – information technology (IT); chemicals and pharmaceuticals – bio-medicine – new materials; telecommunications, machinery, food and foodstuff; and rubber – plastics.
Chu Ba Long, an expert at the department, said government agencies would give priority to companies manufacturing hi-tech products identified by the Government when choosing partners for public projects.
Nguyen Thi Minh Thu, head of the HCM City High-tech Park's investment promotion division, said authorities offer incentives to investors in the park, such as a 15-year corporate income tax break.
In the case of projects that significantly contribute to the city's development, the tax break is offered for 30 years, she said.
Besides, import taxes and VAT on goods imported to enable production or for research work to develop new technologies are also waived, she added. — VNS