The HCM City People's Committee has approved a programme to reduce environmental pollution over the next decade to improve the city's environment and enable it to adapt to climate change.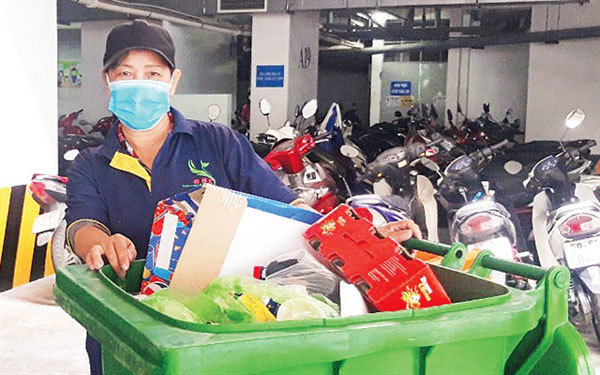 HCM City seeks to have 80 per cent solid household wastes classified at source by 2025 and 100 per cent by 2030. — Photo: nhandan.com.vn
The programme seeks to reduce the impacts of wastewater, emissions and solid wastes on the environment and sets targets.
By this year the city targets all supermarkets and shopping malls using environment-friendly packaging in place of plastic bags.
Wet markets will also reduce the use of plastic bags by 50 per cent.
The city will have in place mechanisms and policies to attract investments in projects to protect the environment.
It will also co-ordinate with provinces in the Mekong Delta and the southern key economic region to reasonably exploit natural resources to protect the environment and respond to climate change.
The city Department of Natural Resources and Environment has taken steps to ensure that by 2030 100 per cent of domestic solid wastes are collected and treated and at least 80 per cent are classified at source by 2025.
According to its Solid Waste Management Division, one of the problems facing solid waste management is classification of waste at source.
The city stipulated in 2018 that solid waste should be classified at source, but many households still do not do so.
By 2025 it plans to bury 2,600 tonnes of waste daily and have at least 80 per cent of domestic solid wastes in urban areas recycled for compost fertilisers or burnt to generate electricity.
It is also taking steps to adopt advanced waste-treatment technologies to save energy and protect the environment, and seek recycling technologies.
Waste-treatment facilities are encouraged to switch to waste-to-energy technologies.  
VNS

Like other major urban areas in Vietnam, Ho Chi Minh City (HCMC) is now facing serious effects caused by air pollution, including respiratory health problems, climate change, and unbalanced ecosystems.