Many universities in HCMC have launched programs to change the habits of students, teachers, and staff to help protect the environment by saying no to plastic straws, bottles, and cups.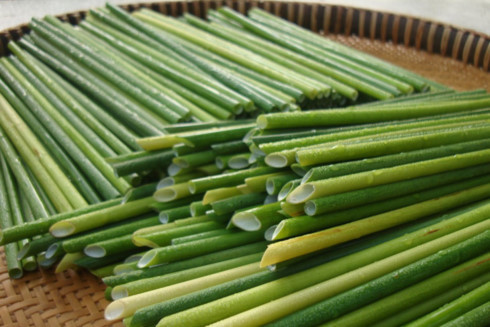 Eco-friendly straws are a good replacement for plastic straws. (Photo: VNA)
HCMC Open University was the first school in the city to ban the use of plastic water bottles and plastic straws.
Starting May 15, plastic water bottles, plastic straws, and other single-use plastic items such as cups, plates, and spoons will be banned from all school meetings and activities.
The school will stop providing plastic bottled drinking water to its teachers and staff. Instead, they will have to use their own personal water bottles or use recyclable bottles provided by the university.
Vu Huu Duc, vice principal of the school, said teachers and staff should set a example for students, adding "Plastic bottles are convenient but do great harm to the environment. It's necessary to give up old habits and accept the fact that it's ok to take a bottle anywhere you go. There are suppliers who can provide eco-friendly replacements for single-use plastic items."
HCMC Open University has installed water dispensers for the students. Student Nguyen Van Nghia says he intends to spread the movement to his relatives and friends.
"At first I found the program a bit strange because plastic items have been familiar to everybody for years but are just now being restricted. I understand the importance of the program and agree that we need to start switching to eco-friendly products. It'll be good for humans and less litter in the environment," said Nghia.
The Center for Enrolment and Communications at HCMC University of Food Industry has been doing much the same.
Pham Thai Son, the Center's Director, said his staff have been asked to say no to single-use plastic cups, bottles, and straws. Contests have been held to teach students the harm done by solid waste and encourage them to voluntarily change their habits.
"We have increased communications so that students, teachers, and staff will understand the harm done by plastic waste. We avoid using plastic items like bottles, cups, and straws at the university," Son noted.
Students of the HCMC University of Economics and Finance have chosen the topic "Environment" for their "Project Design" course.
Using straws made from grass, rice, or stainless steel and providing fabric bags or corn-flour bags to the housewives at Thi Nghe market are two of many initiatives by the students to protect the environment.
Next month the school will implement a project to improve awareness of non-degradable waste.
Dr. Ho Vien Phuong, office chief of the HCMC University of Economics and Finance, said: "The ultimate goal of these activities is to get people to realize the harm of plastic waste and minimize its use. This will save the money spent on recycling and waste treatment, improve people's health, and reduce the impact on the environment."
VOV5