With the launch of the social network Lotus, VCCorp. is ­trying to reshape the domestic advertising market currently dominated by Facebook and Google, and to give more benefits to content creators.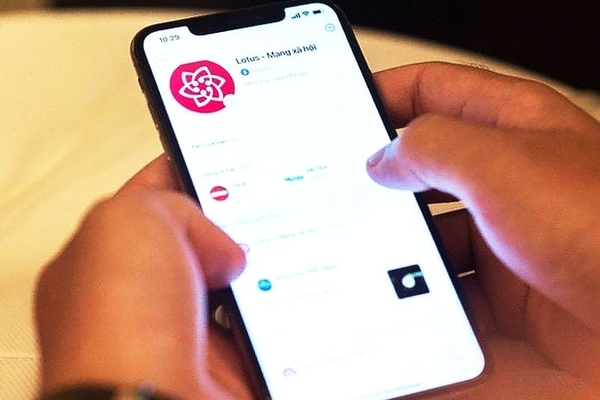 The social network Lotus (illustration photo)
Privately-owned Vietnam Communications Corporation (VCCorp), last week officially marketed Lotus, a VND1.2 ­trillion ($52.17 million) social network. The company's bold move is aimed to attract more online advertising in Vietnam and take power back from the tech giants of Facebook and Google, putting it back in the hands of content creators.
Facebook and Google now hold about 60-70 per cent of the Vietnamese advertising market, according to the ­Ministry of Information and Communications (MIC). Lotus is one of five social networks that the MIC is intent on launching to slowly roll back Facebook and Google's dominance of the Vietnamese social media sphere. The launch of the social network roughly coincides with that of Appnews, a news aggregator application developed by Yeah1, in a co-ordinated attempt to challenge the foreign giants on the front of content distribution.
True to this aim, Lotus is less like a social network in that users cannot add friends, but can instead follow creators. "Users can become fans of ­creators and share content they enjoy with their own fans," Bui Linh Chi from VCCorp's ­Public Affairs and Communications Department told VIR.
Aiming to better serve ­content creators, the latest "Made in Vietnam" social ­network supports various ­formats, including simple, ­classic media like texts, photos, and videos, and more complicated forms like photo stories, blogs, and magazines.
According to VCCorp chairman Nguyen The Tan, Lotus will give a lending hand not only to individual creatives but also local press agencies that create the lion's share of content yet hold a minor share of the local advertising market.
"It is necessary to have a platform that only serves ­content creators, to help them approach more users and ­regain some of the advertising market," he said. "With the launch of Lotus, we hope to strengthen the position of content creators and alleviate their dependence on overseas tech giants."
This sentiment was echoed at the launch of Appnews ­Vietnam by chairman of Yeah1 Nguyen Anh Nhuong Tong, who said local press agencies have been cornered by tech ­giants like Facebook and Google who are "taking it all". He was of the opinion that the best way to regain the market is to create an alliance of all press agencies in Vietnam – on a platform catered by a Vietnamese news aggregator. "Appnews will help every press agency to promote exclusive content to better approach users," said Tong. "Users will have a far better experience with a great variety of content on a single system."
So far, more than 50 news agencies have joined Appnews to offer up-to-date coverage of the freshest news with real-time notifications to users.
However, Lotus' content-centric model has raised concerns as critics were quick to point out that all social networks focus on content and would not exist without it – what truly sets them apart is the difference in the type and format of the content they bring to users. Facebook, YouTube, TikTok, and Twitter revolve around content – it is unclear how Lotus' approach will be different or whether "following a creator" is any different from just adding a friend or giving a "thumbs up".
In addition, while Lotus is vocal about its attempt to carve out a niche by providing "positive content", it is unclear what that actually means. Social networks are platforms to house content built by users and while Facebook and Google are often under fire for disseminating harmful content, they are also home to an abundance of intellectually and spiritually uplifting, educational content – and so are other social networks. So far, it is unclear how Lotus will supervise content to set itself apart from the fold.
Setting itself apart is key to success. Indeed, Vietnam's previous attempts at breaking Facebook and Google's stranglehold by launching its own social networks have failed once, and all simply for not bringing anything truly new to the table. The likes of Go.vn, Zing Me, Banbe.net, Tamtay.vn, or Yume.vn all received heavy funding at the onset just to fade into near-oblivion.
A more recent example, Biztime was heavily criticised by users in 2017 for failing to even come up with a theme and design different from Facebook's. Tourism social network Hahalolo, launched in June, has already been slammed by the State Bank of Vietnam for running an unlicensed e-wallet business and does not seem to be able to truly take off. Gapo, launched in July, is filled with content reposted from Facebook and TikTok. Currently Gapo is being used by about two million people.
Lotus' success rides on its ability to provide unique content in a fresh packaging – and much of this depends on specifications the developers have yet to unveil, such as their approach to content itself and the algorithms ensuring "positive content".
Advertising in the palms of Facebook and Google
In 2018, global advertising revenue increased by 72 per cent on-year, half of which was generated by digital platforms. These platforms' advertising revenue has rocketed from $17.2 billion in 2009 to a forecast $38.9 billion in 2019.
This goes completely against the grain at press and television channels. Specifically, the global press made $22.4 billion in 2009, but expects only $10.1 billion in 2019, while TV channels are looking at a $1 billion rise to $35 billion.
Meanwhile, as reported by German online portal for statistics Statista, Facebook and Google's revenue in 2019's second quarter alone exceeded $16.9 billion and $38.78 billion. 
Press alliance may trump Facebook and Google
Aiming to help local press agencies escape the domination of Facebook and Google in the advertising market, the Ministry of Information and Communications' (MIC) Authority of Press on September 19 joined hands with Yeah1 to organise the workshop on launching the Appnews Vietnam application.
Speaking at the workshop, director of the Authority of Press Luu Dinh Phuc said that despite being the main creators of content, local press agencies only hold a minor share of the local advertising market, while Facebook and Google easily palm 60-70 per cent. "This should be resolved as soon as possible."
Sharing the same view, Yeah1 chairman Nguyen Anh Nhuong Tong said that local press agencies are being cornered by tech giants like Facebook and Google who are "taking it all". He was of the opinion that the best way to regain the market is to create an alliance of all press agencies in Vietnam.
"Appnews will help every press agency to promote their exclusive content to better approach users," said Tong.
Explaining the features of the app, he said that instead of each agency gathering their own readership base, with the Appnews platform they can join their audiences, enhancing interactions.
In the fierce battle to retake some of the advertising market from Facebook and Google, more and more local press agencies are teaming up. This is similar to the trend in the television industry where traditional TV channels purchase cable TV and develop their own over-the-top applications.
"Users will be able to receive a far better experience because a great variety of content will be on offer on a single system," affirmed Tong.VIR
Van Anh

The Vietnamese social network Lotus revealed its plan to attract 60 million users in Vietnam during its official launch in Hanoi last night.  

The Ministry of Information and Communications' (MIC) announcement of the launch five local social networks in 2019, including the latest Lotus, shows Vietnam's desire of escaping Facebook's stranglehold.  

To build a Vietnamese social network and cement its position in Vietnam, the first thing that needs to be done is to defeat Facebook.