More than 300 red lory parrots – an endangered bird found only in Indonesia – were suspected to have been imported to Viet Nam illegally earlier this week.
Smuggled rhino horns seized at Noi Bai airport
Wild birds sold at unofficial Hanoi market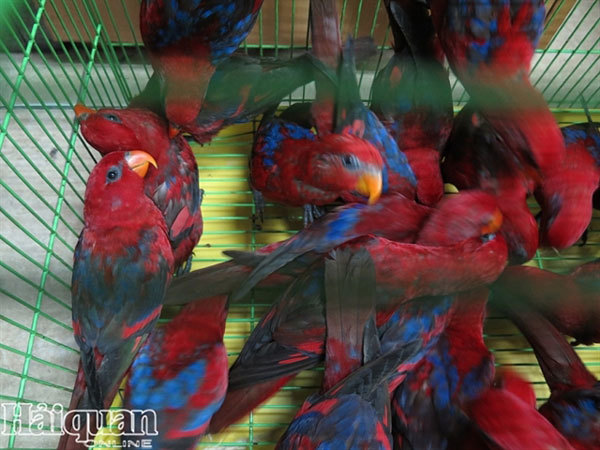 Red lory parrots were found illegally imported to Vietnam via Noi Bai International Airport early this week. — Photo baohaiquan.vn
On Monday, customs officers at Noi Bai International Airport found the parrots alive in ten packages that were reportedly from Indonesia, transited in Malaysia, to Vietnam.
On the packages' bill of lading, the sender is PT SINAR NATAMA TRANS LOGISTIC while the receiver's address is in Hoang Mai District, Hanoi.
On Tuesday, Noi Bai Airport customs transferred the parrots to Ha Noi's Forest Protection Department for quarantine.
According to the Institute of Ecology and Biological Resources, the red lory parrot is listed in Convention on International Trade in Endangered Species of Wild Fauna and Flora (CITES)'s Appendix II, meaning that legal documents are required for the import of the bird including permissions granted from CITES agencies in the exporting country and importing country as well as post-import animal quarantine.
Vice director of CITES Viet Nam, Vuong Tien Manh, said that the agency would contact its counterpart in Indonesia over the exporting permission.
If the parrot packages were not eligible for import to Vietnam, they would be returned to Indonesia, Manh said.
If the exporting country refused to accept them, the importing country would complete legal procedures for their preservation, he added.
In Vietnam, a red lory parrot can be sold for up to VND5 million (US$214).
VNS