With one representative, Prof Nguyen Xuan Hung, Vietnam has for the sixth consecutive time become one of nearly 60 countries which have highly cited researchers.
Clarivate Analytics, a company that manages and operates scientific databases and provides academic analysis and intellectual property services, annually selects world-class scientists through public performance and highly cited publications on Web of Science's journals.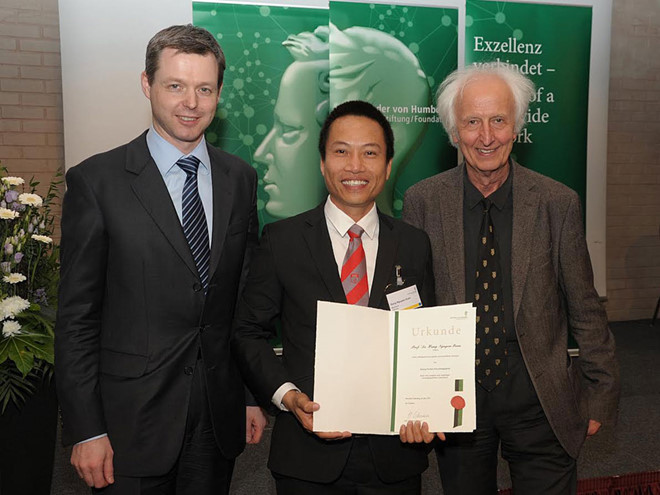 Prof Nguyen Xuan Hung (middle)


In 2019, this list includes 6,216 scientists from nearly 60 countries in 21 natural sciences and social sciences. One third of them are interdisciplinary researchers.

There are many different methods to evaluate research performance and the influence of scientists. However, the assessment based on citations, in other words, on the community of researchers, is one of the fairly objective methods today.

David Pendlebury from Clarivate Analytics said the list of most highly cited researchers (HCRs) helps identify outstanding people in the research community who have contributed greatly to expanding the boundaries of human understanding. They have created many benefits for society, for innovation activities, making the world healthier, more sustainable and safer.

With one representative, Prof Nguyen Xuan Hung, Vietnam has for the sixth consecutive time become one of nearly 60 countries which have highly cited researchers.
There is only one name from Vietnam in this year's list of HCRs, Prof Nguyen Xuan Hung from the HCM City University of Technology.

For a country whose budget for science and technology development remains modest like Vietnam, there are not many opportunities to have high numbers of representatives in annual lists of HCRs.

However, veteran scientists such as Prof Pham Duy Hien and Dao Tien Khoa still wish that young scientists can take full advantage of the increasingly better conditions in Vietnam and international cooperation to make success.

At the meetings of the Vietnam Atomic Energy Institute, Hien said he hopes that Vietnam will have many scientists of international stature, and present on the 'facade of the world's science' with publications cited by colleagues.

Hung is a special case. He is a scientist 'who has had to overcome many difficulties in challenges in research to gain the success as seen today' as described by Prof Pham Duc Chinh from the Mechanics Institute of the Vietnam Academy of Science and Technology.

Working in Vietnam means that he cannot carry out research ideas in ideal conditions like foreign colleagues, from equipment, to funding to staff.

On the basis of in-depth knowledge about liquid, solid and gas environments, he explores new research ideas and implements them through international cooperation. He captures the new research directions in the world and conducts research his own way.

The projects he works on, from basic research to applications, all involve 'key words' such as 3D printing, biological mechanics, computational mechanics, computational nanomaterials, deep learning, machine learning and geometric isometric analysis.

Prof Nguyen Xuan Hung has been published in 164 publications, including 28/29 articles of 2019 in Q1 magazines. 
Thanh Lich

Two Vietnamese scientists have been selected to the list of 2019 Highly Cited Researchers according to the Web of Science.

Scientist Mai Thi Ngan from Vietnam's National University of Agriculture was presented with the Japan International Award for Young Agricultural Researchers at a ceremony in Ibaraki prefecture on November 26.