In recent decades, waste from nuclear power plants, hospitals and electronic gadgets, which may cause cancer and threatens the life of human beings, has become an extremely severe problem.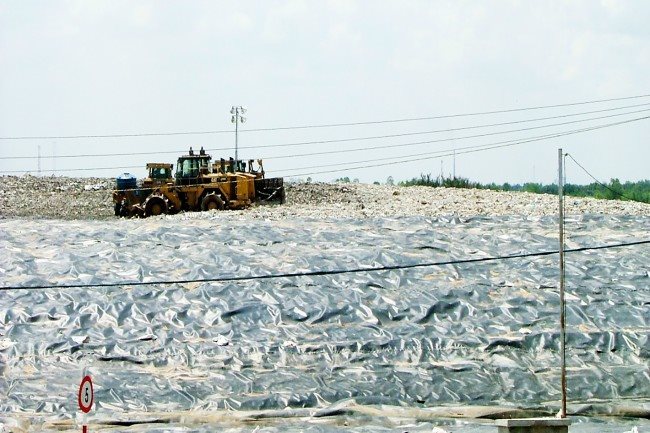 Since the land fund of HCMC is limited, no more landfills would be licensed in the city
This is why the sector dealing with waste collection, treatment and recycling industry has become so important.
In Vietnam's metropolises like Hanoi and HCMC, garbage has long become a thorny issue. Supposing each HCMC resident discharges 1-1.2kg of trash a day, the total volume of trash of some 13 million city dwellers will be as huge as 8,000 tons.
In the course of the past 40 years, HCMC has made remarkable progress in urbanization by introducing advanced technologies exemplified by the construction of cable-stayed bridges and high-rises, or underground drilling.
However, when it comes to waste collection and treatment, no significant change has been made as garbage is still collected almost manually and then buried or burnt.
Waste burying and burning have been the method in use in this city for centuries. Landfills such as those in Hoc Mon, Binh Chanh and Cu Chi districts have existed for decades now.
Since 1990, the municipal authorities have realized the unsuitability of this way of garbage treatment, given the fact that the population has increased by three to four times, especially the increase of solid waste discharged from industrial parks and export processing zones.
Landfills can be seen throughout the country, from big cities to rural areas. It can be said that all people, rich and poor alike, are suffering from trash.
In 2005, the HCMC government signed a cooperation deal with Vietnam Waste Solutions (VWS), offering this company many incentives: high waste treatment prices, advance capital and 130 hectares of land.
At that time, city dwellers expected that waste would be completely treated. Regrettably, after 14 years, residents of Phu My Hung—a model urban area of Vietnam—periodically smell the bad odor emitted from Da Phuoc Integrated Waste Management Facility, not to mention the leachate that has polluted the surrounding areas.
The situation requires an immediate measure to promptly tackle this problem for the life of the people affected by the landfill to pave the way for long-term solutions for the city with over 10 million inhabitants.
To cope with the garbage issue, the municipal authorities should carry out the following tasks.
First, waste treatment technology must be modernized through the use of self-contained incineration method and equipment which generate heat and electricity. Such modern waste treatment plants are widely in use in Southeast Asian countries and around the world.
At present, Austria, Belgium and Germany are selling their state-of-the-art waste treatment plants. Some may opine that such advanced technology plants are expensive. However, being expensive or not depends largely on personal viewpoints.
As far as the price is concerned, it seems relatively dear as a modern waste treatment plant, which can treat 500 tons of trash per day, may cost VND1 trillion. However, when it comes to efficiency, that price tag is not high at all, because this advanced technology can help save thousands of hectares of land for other purposes.
Moreover, these plants can generate electricity, and supply heat for industrial factories and organic fertilizer for the agricultural sector. There are also such benefits as cleaner environment and better human health.
Therefore, investment in such incinerators should be much more beneficial than in traditional means.
Second, waste sorting at source must be implemented. The benefit of waste segregation at source is obvious: it helps fasten garbage collection, transportation and treatment processes.
Organic rubbish like vegetables and fruits and leftovers will be processed into fertilizer; non-organic trash such as debris and broken potteries will be buried or used in ground leveling; such waste as paper, plastics and glass will be recycled; and non-recyclable waste will be burned to supply heat for electricity generation.
It will be a failure if waste sorting at source cannot be carried out before the waste is transported to treatment plants because manual waste segregation is costly and time consuming, whereas unsorted waste has to be buried or else it will break down the treatment equipment.
Since the land fund of HCMC is limited, no more landfills would be licensed in the city. Meanwhile, the scheme to transport garbage to other localities through cooperation programs cannot be implemented because no one wants to receive waste.
The only right way for Vietnam in general and HCMC in particular is the application of advanced technology.
It will make no sense if a smart, creative and friendly city like HCMC is trash-strewn, forcing its inhabitants to wear masks when going out, and well-off residents in Saigon South to migrate every time Da Phuoc emits bad odor. SGT
Nguyen Minh Hoa
Hanoi is building a garbage-to-energy incinerator with a capacity of handling 4,000 tons of waste per day, which is expected to be put into operation by 2021.  

Authorities in Phu Quoc Island are finding new dumping sites for the increasing amount of waste produced.  

Young people and volunteers have spent thousands of working days removing trash in 'hot environment spots'.