A drill on radiation and nuclear accident response took place on April 19 in the Central Highlands province of Lam Dong's Da Lat city, which is home to a nuclear reactor.
EU project helps improve legal framework for nuclear safety in Vietnam
President reiterates Vietnam's policy against nuclear weapons
 Vietnam, Russia to build US$350 million nuclear research center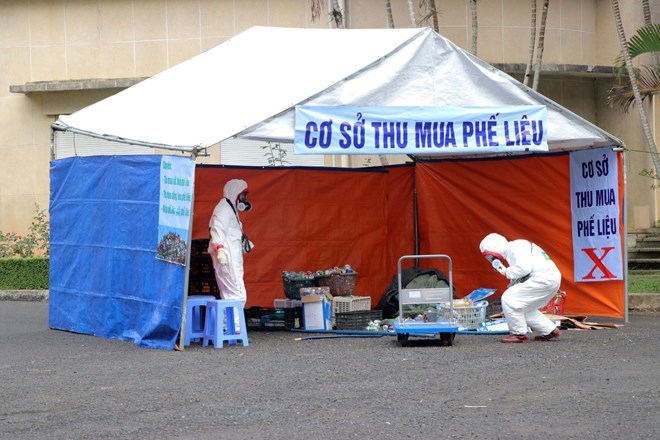 Scene at the drill
The exercise drew the participation of 60 personnel from the provincial steering committee for radiation and nuclear accident response, the Department of Science and Technology, the Da Lat Nuclear Research Institute, the Department of Health, and local police.
The simulation involved workers of a scrap collection facility, who received a batch of material waste and found a strange-looking cylinder bottle. They opened the bottle, which bore a symbol of a three-blade fan, and found a stainless steel bar and some powder inside. The workers carelessly threw them to one side on the ground without alerting any higher authorities.
The owner of the facility discovered the incident half an hour later. Suspecting that the bottle contained a source of radiation, he immediately asked all workers to leave and called the police. The case was then reported to the steering committee, which contacted the institute and relevant forces for coordination to handle the incidents.
The forces blocked off the site, put those who were suspected being exposed to the radioactive source in quarantine, brought any victims out and away from the scene, as well as collected information and samples so as to assess the situation and serve further investigation. After three hours, their work was completed in line with the standard procedure.
Pham S, Vice Chairman of the Lam Dong People's Committee and head of the steering committee, said a similar drill was first held in 2018, which concerned the transport of radioactive sources.
Statistics showed as of the end of last year Lam Dong was home to 1,061 radioactive sources and 19 radiation devices. –VNA