Police in the southern province of Lam Dong have caught a group of people who cut pine trees in Lam Ha District.
Man arrested over Lam Dong deforestation case
Three arrested for poisoning pine forests in Lam Dong province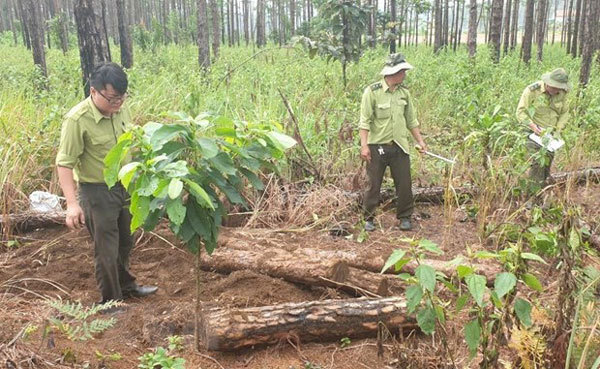 Forest rangers count the number of pine trees being cut down in Loc Phu Commune, Bao Lam District. — VNA/VNS Photo Nguyen Dung
This is the second case of forest destruction in just four days, police said.
During a patrol at 3pm on Thursday, the local police and rangers discovered a group of four people using chainsaws to cut pine trees at plot B in Nam Ban Township, according to senior lieutenant colonel Tran Van Tra, deputy head of Lam Ha District.
The subjects were identified as Nguyen Hung Cuong, Vuong Hoai Nam from Nam Ha Commune, Lam Ha District; Dang Van Hung, from Nam Dinh Province and Lo Van Hai, from Thanh Hoa Province.
Cuong hired the three men to destroy the forest area so the land could be used.
Police also seized three chainsaws and one can of gasoline. The suspects had chopped down 23 pine trees.
They cut the trees and burned the roots and then planted other trees next to the old ones to remove any traces.
Earlier, on Tuesday, local police and rangers also discovered 2ha of pine trees in Loc Phu Commune, Bao Lam District being cut down to plant hundreds of avocado trees.
They also found nearly 400 pieces of pine trees buried nearby.
VNS