Many cities/provinces reject textile and garment projects because of fear of the negative impact on the environment.
With export turnover of over $30 billion a year and 3 million jobs generated, textiles and garments play an important role in economic development. Vietnam aims to export $40 billion worth of textiles and garments this year.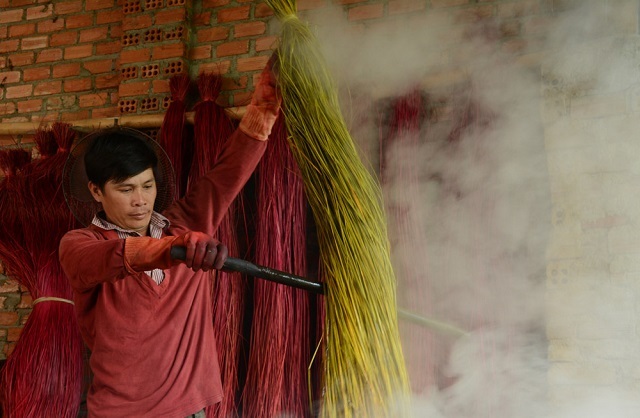 The Vietnam Textile and Apparel Association (Vitas) reported that by 2017, there were 7,000 textile and garment enterprises.

However, according to Nguyen Thi Phuong Mai, deputy director of the Institute of Environmental Science under the General Directorate of Environment, the dyeing sector with a high risk of environmental pollution, especially waste water and odor pollution.

Vietnam has 177 enterprises in the field of dyeing and textile finishing. The technology applied in the industry is 15-20 years behind other regional countries. The number of enterprises utilizing high technology just accounts for 15-20 percent, while 70 percent of enterprises use medium technology and 10-15 percent use low technology.

A report shows that enterprises use 500-2,000 kilograms of chemicals for every ton of products. These include inorganic chemicals such as acids, alkalis, solvents and various salts.

Vietnam has 177 enterprises in the field of dyeing and textile finishing. The technology applied in the industry is 15-20 years behind other regional countries.
The majority of enterprises in the textile and apparel industry are small and medium sized, so they only focus on the production and sale of their products, and are inactive in the management of chemicals.
They only take care after accidents occur or after they discover problems related to the use of chemicals.

A survey by the Hanoi Department of Natural Resources and the Environment found that most weaving craft villages do not use furnaces, so the air pollution there is mainly local, within production areas, such as dust from textile weaving workshops.

The Dong Nhan weaving village is an example. As there is no waste treatment system, the waste water goes to canals and reaches rivers. Meanwhile, solid waste is dumped in landfills and collected by environmental companies to be treated together with domestic waste.

The FTAs Vietnam signed with partners include provisions related to environment protection, sustainable development and green production.
This means that enterprises not only have to improve the quality of products to become more competitive, but also have to ensure the green production process, especially when the government of Vietnam committed to cut 8 percent of emissions. This means that enterprises need to upgrade technology and organize clean production.

Vitas is cooperating with WWF (World Widlife Fund) to implement the project on greening the textile and garment industry through water management and sustainable energy. The project in 2018-2020 has the main focus on improving water and energy use efficiency, thus minimizing the impact of the industry on the environment.
Mai Lan

The rapid development of greenhouses for vegetable and flower cultivation in the last two decades has had a negative effect on the environment in the central resort city of Da Lat.

Textile and garment enterprises consume a large amount of chemicals for their production activities.