Vietnam may suffer a further loss in its economic growth if environmental pollution worsens, according to the Ministry of Natural Resources and Environment (MoNRE) official Nguyen Hoang Nam.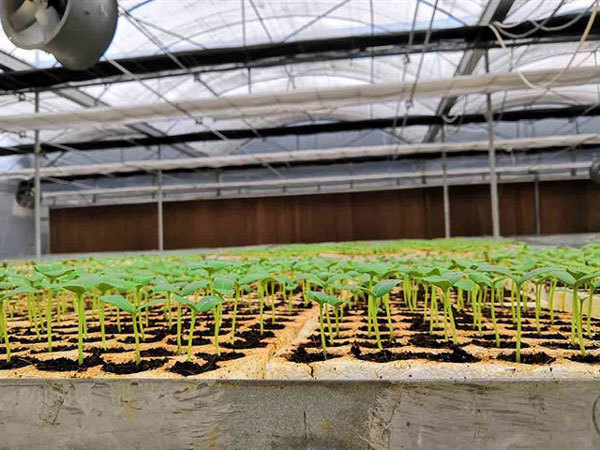 Organic fertilisers produced by Sa Mạc Xanh (Desert Green) Co Ltd where burnt waste is used for farming. — Photo greendesertwte.com
Vietnam was ranked fourth among all countries and territories in the world in terms of plastic disposal but not the biggest in terms of land area and population, Nam said at a workshop on Tuesday.
Three top economies with the highest plastic disposal were China, Indonesia and the Philippines, he said.
World Bank in 2019 estimated that the impacts of environmental pollution might cut off 3.5 per cent from Việt Nam's GDP in 2035, Nam reported.
On the global scale, the Spanish organisation DARA International in 2012 forecast climate change might curb the world's total GDP by 11 per cent in 2030.
By 2050, the total volume of plastic waste would outperform the volume of fish worldwide while the volume of solid waste would almost double from 11.6 million tonnes to nearly 22 million tonnes.
Other statistics were also provided to prove the traditional linear economy was hampering natural resources, increasing waste volume and pulling down the world's socio-economic development.
"The statistics create a big question whether we are moving forward or backwards with the current economic model," Nam who is also an official at the Institute of Strategy and Policy on Natural Resource and Environment told a workshop on Tuesday.
He said because of this it was important to promote the implementation of a circular economy to preserve and develop natural capital through rational use and re-generation of resources and use of renewable energy.
In addition, it would optimise the yield of resources and materials as much as possible in production cycles, and improve the overall system performance by minimising negative externalities through waste design, he said.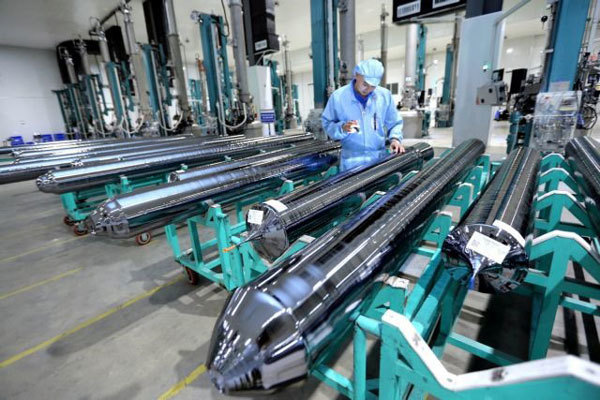 A worker checks manufacturing materials to produce solar batteries at the Hong Kong-invested Ja Solar Vietnam Company Limited in Quang Chau Industrial Park in the northern province of Bac Giang. Promoting a circular economy is important to preserving and developing natural capital through rational use. VNA/VNS Photo Danh Lam
 
If done properly, a circular economy may help save US$4.5 trillion by 2030 for the world and 600 billion euros ($661 billion) for Europe, according to Nam.
He urged the Vietnamese Government to quickly complete the necessary legal framework and promote the role and responsibility of producers and consumers.
The recycling industry must be developed further while a database must be set up with the support from the Industry 4.0, he added.
Deputy Minister of MoNRE Vu Tuan Nhan, added: "After a long time of depending on and spending natural resources, Vietnam has made significant improvements in its socio-economic conditions.
"However, the country has had to trade off economic growth for environmental change and pollution.
"Transforming the current economic model to the circular economy is a suitable action that Vietnam is striving for so that it achieves the sustainable development goals."
Swedish Ambassador Ann Mawe said a circular economy would benefit both consumers and businesses.
She said: "Companies that are moving in this direction have proved that recycling used products can be more cost effective than creating them from scratch.
"Production costs are reduced, so the sale price is also lowered, thereby benefiting the consumers. I hope this is inspiring for Vietnamese businesses."
Private firms should be called for deeper participation in the development of the circular economy, the two officials stressed.
Featuring at the workshop were Sa Mạc Xanh (Green Desert) Co Ltd and An Phát Holdings that make green, environmentally-friendly products.
Sa Mạc Xanh (Green Desert) Co Ltd is running a waste furnace in the northern province of Hung Yen, which burns waste disposed from households, industrial units and livestock to generate electricity and provide carbon organic products for farms.
The company project manager Le Bich Ngoc told Việt Nam News they were still encountering legal and financial issues before rolling out the model across the country.
In addition, the Government should keep educating people and the business community about the benefits of green technologies so that the circular economy could further develop, she said.
"We need higher support from the Government and ministries," Ngoc said. "We need an open environment for businesses so that they are able to develop their products and understand the importance of the circular economy."

The Ministry of Agriculture and Rural Development has set targets to increase the use of organic fertilisers by the end of next year.  

Vietnam produces 50 tons of crop by-products yearly, but most of it is burned and not used as another resource.
VNS