Technology has not only helped to connect hospitals together but also linked doctors with those need advice, and disadvantaged people with those who can assist them in a bid to drive back the COVID-19 pandemic together.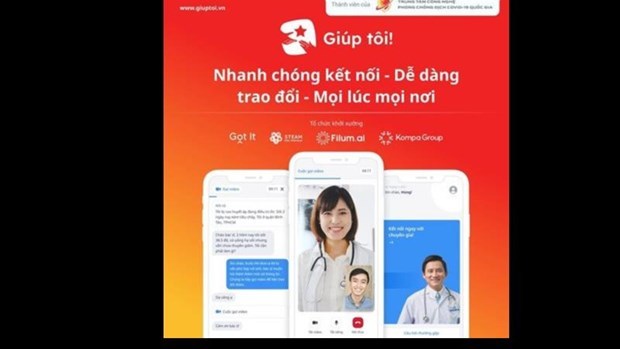 Over the past time, apps and platforms like VOV Bacsi 24, Giúp tôi! (Help me), SOSmap, and Zalo Connect have been launched to connect patients with medical system, vulnerable people with philanthropists, and citizens with authorities and vice versa.
During a recent teleconference, Deputy Minister of Information and Communications Nguyen Huy Dung said since the pandemic hit Vietnam in 2020, modern technology has become instrumental in connectivity.
Firstly, it links central-level hospitals and those in lower levels to offer remote advice. So far, 2,000 locations have been connected together, particularly, all central-level hospitals have linked with district-level ones. In recent days, temporary COVID-19 treatment hospitals in Ho Chi Minh City, Binh Duong and Long An have also been brought to the line.
Other apps like VOV Bacsi 24 have connected doctors with patients and sought emergency support, which proved effective in Ho Chi Minh City.
The recently-launched app "Giup toi!" now brings together 10,000 doctors who could offer treatment consultancy related to COVID-19 and other diseases.
Deputy Director of the Health Ministry's Department of Information Technology Nguyen Truong Nam spoke highly of such apps, adding that when citizens are unable to contact local doctors, they could call the ministry's hotline.
Other apps like SOSmap, Zalo Connect and others also offer food and necessities. During 15 days since its launch, Zalo Connect collected about 320,000 requests for assistance. The hotline 1022 in Ho Chi Minh City receives 15,000-20,000 calls each day seeking help from locked-down areas.
According to experts, the whole community needs to join hands to support the disadvantaged in the current context. Once social welfare services are ensured, residents will feel secure and seriously follow pandemic prevention and control measures.
Source: VNA

The Ministry of Information and Communications (MIC) has released technical guidance on the personal QR Code to be used nationwide.