Gas emissions from vehicles, exhaust from factories and industries and air pollutants from construction sites were identified as the three main causes of the deteriorating air quality in HCMC and Hanoi at an urgent meeting on air pollution yesterday.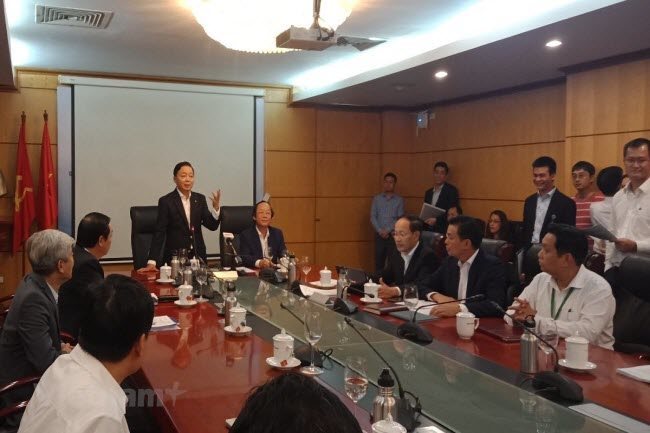 A view of an urgent meeting on air pollution, chaired by Minister of Natural Resources and Environment Tran Hong Ha on December 19 in Hanoi – PHOTO: VNA



Minister of Natural Resources and Environment Tran Hong Ha chaired an urgent meeting on December 19 with leaders of the two cities and representatives of various ministries and departments to discuss issues surrounding the existing air pollution, including pollution levels, causes and solutions, reported Thanh Nien newspaper.
According to the minister, there is an excessive number of transport vehicles in both cities, while vehicle emission standards in Vietnam remain below global standards.
Motorcycles in the country are required to comply with Euro 2 emission standards only, and automobiles are subject to Euro 4 standards. Meanwhile, the global emission limits are at Euro 6.
Hanoi has roughly 5.8 million motorcycles and automobiles, while HCMC has some 7.5 million units. These figures exclude the millions of non-motorized vehicles that commute to and from the cities, bringing with them mud and earth. These transport activities have raised the volume of fine dust particles in the air.
Besides this, the two cities are home to many construction sites, with Hanoi in particular hosting over 1,000 sites. Dust and other air pollutants emitted from these sites have worsened air quality, explained the minister.
Further, air pollution also originates from the operations of factories and manufacturing facilities in the cities. In HCMC, for instance, there are almost 900 operational factories of every scale.
The minister added that poor air quality was also caused by farmers living in the suburbs who burn straw and agro byproducts after harvest seasons. Moreover, some 60,000 coal burning stoves remain in use by Hanoi residents, leaving an impact on air quality.
Reporters asked to leave soon after air-pollution meeting begins
During the urgent meeting hosted by the Ministry of Natural Resources and Environment on December 19 on air pollution in Vietnam, reporters were asked to leave 15 minutes into the event.
The meeting had been scheduled because air pollution in the two major cities of Hanoi and HCMC has reached alarming levels, leaving an impact on the health of local residents and triggering public concern, Minister Ha pointed out in his opening remarks.
Air pollution is an urgent and sensitive issue. The volume of fine dust particles has risen over the past five years and has directly affected residents' health, he said.
Discussions at the event will focus on three main issues: the origin of the fine dust, the current air quality in the two cities and solutions, Ha added.
Because of the importance of the subject under discussion, scores of reporters attended the event, which was packed to capacity.
Minister Ha expressed surprise at the large number of reporters, suggesting that the media turnout would affect delegate sentiment during discussions, according to Thanh Nien newspaper.
As such, he asked the reporters to leave after the introduction ended, adding that a news release would be issued later.
Earlier, many news agencies had received invitation letters by email to join the meeting, so the minister's request has provoked concern among many reporters. SGT
 

Chairman of the Hanoi People's Committee Nguyen Duc Chung has called for a range of measures to ease the current severe air pollution.  

Vietnam Electricity Group (EVN) has denied the accusation that severe air pollution in Hanoi is mainly affected by its thermal power plants.