A sugarcane producer in the Mekong Delta province of Hau Giang has been ordered to pay VND700 million (US$30,000) in fines for causing pollution in a local river.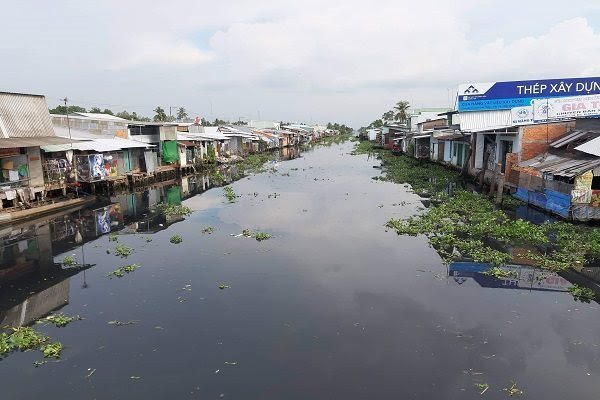 Water in the Cai Lon River in the Mekong Delta province of Hau Giang turned black in May 2019 – PHOTO: HAI DUONG
The local government recently imposed the hefty fine on Long My Phat Sugarcane, Sugar and Ethanol JSC for discharging untreated effluents into the Cai Lon River, which flows through Long My District and Long My Town in the province.
The river has been severely polluted since March 22. Many pollution indicators, such as biological oxygen demand and chemical oxygen demand, were found to have far exceeded the country's acceptable limits, according to the provincial environment department.
The polluted water surface has resulted in the black color of the river and the foul odor, a representative said in May.
Aside from the fine, the polluter was forced to suspend its operations for four-and-a-half months starting from July 23, and take corrective measures to reduce its pollution impact.
The polluted water has stirred outrage among local residents, who face a shortage of clean water. The incident has killed nearly all the frogs, fish and shrimp farmed by households in the area.
The Cai Lon River is the main source of water for Long My Town, whose water treatment plant uses some 4,000 cubic meters of water from the river to serve 6,000 families living nearby. With the water so
heavily polluted, the plant has had to turn to using groundwater. SGT
Trung Chanh

There are three 'pillars' for air quality management, including data from emission sources, air monitoring data, and assessments about the human impact. Vietnam lacks data about all three.

Concerns are growing among residents across Hanoi regarding the poor quality of air that the city has been experiencing over the past few days.