Saltwater intrusion has occurred on a large scale in the Mekong Delta, forcing local authorities to take measures to protect agricultural production and ensure water supply for household use.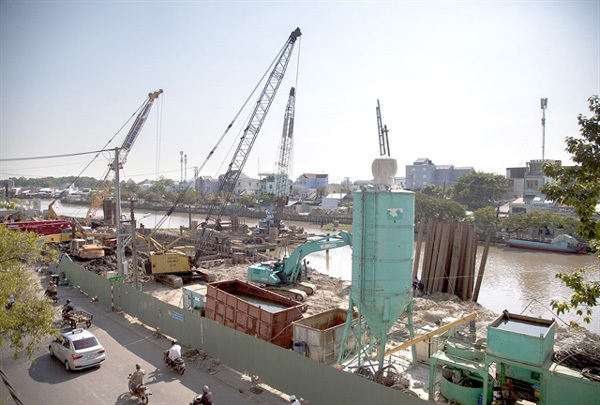 Construction of the Kenh Nhanh Sluice to prevent saltwater intrusion in Kien Giang Province's Rach Gia City. — VNA/VNS Photo Hong Dat

Saltwater intrusion has affected many provinces like Tiền Giang, Ben Tre, Tra Vinh, Vinh Long, Soc Trang, Kien Giang and Ca Mau.
Salinity rates of four parts per thousand (PPT) have been recorded 40-70 kilometres upstream from the coast, 10-15 km further inland than usual during the dry season.
Some 82,000 households in the delta, mostly in Tien Giang, Ben Tre, Soc Trang, Kien Giang and Ca Mau, face a water shortage.
Tran Ba Hoang, head of the Southern Irrigation Institute, said the saltwater intrusion is very severe this year, coming early, entering deeper inland and likely to last for a long period.
"The winter-spring crop will be affected heavily because of the freshwater shortage."
In Ca Mau, the saltwater has affected more than 20,000 households, 16,500ha of shrimp-rice farms and more than 24,000ha of rice farms.
Le Van Su, vice chairman of the provincial People's Committee, has instructed local authorities to share water and use the water remaining in canals to save rice and other crops.
He called on the Ca Mau Clean Water and Rural Environment Sanitation Centre to check each household and take measures to supply water to them.
In Ben Tre, the provincial People's Committee on Tuesday declared an emergency due to saltwater intrusion and ordered relevant agencies to take urgent measures to cope with it.
The situation in the main rivers is as bad as it was in the record 2015-16 dry season.
Nguyen Khanh Hoan, head of the province's Irrigation Sub-department, said saltwater intrusion would continue to worsen.
Most areas in Ben Tre are already suffering from salinity of one part per thousand.
Water used for irrigating rice, fruits and certain other crops should have a salinity rate of less than 0.5 PPT.
Farmers have taken effective measures to store water like using giant plastic bags with a capacity of 50cu.m, building tanks and putting plastic sheets on pond beds.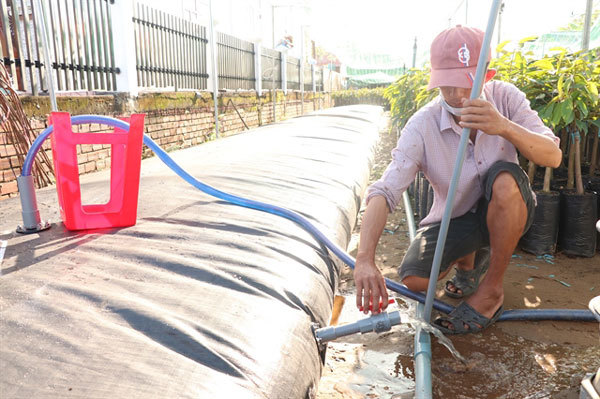 A huge plastic bag is used for storing irrigation water in Ben Tre Province amid severe saltwater intrusion. — VNA/VNS Photo Huynh Phuc Hau

Irrigation projects
Nguyen Huu Lap, vice chairman of the Ben Tre People's Committee, said the province has assigned priority to building temporary dams to keep out saltwater intrusion and to store freshwater.
It has also prioritised supply of water to households, he said.
The province has 46 sites from where farmers can draw water to measure salinity to know if it is suitable for irrigation.
In Vinh Long Province, salinity rates in many areas exceed the rates of 2015-16.
Authorities have implemented a number of projects to mitigate the impacts.
They have dredged 83 irrigation works, upgraded 27 water supply projects, invested in water pumps, and used 10,000 existing borewells to ensure there is enough water for irrigation and household use.
Le Quang Trung, vice chairman of the Vinh Long People's Committee, said the province has warned people about the damages caused by saltwater intrusion to ensure they participate in measures to prevent it.
The Kien Giang People's Committee has instructed relevant agencies to prevent saltwater intrusion.
The province has built a comprehensive sluice system to keep out saltwater along the An Bien-An Minh coast.
The Kien Giang Clean Water and Rural Environment Sanitation Centre has stored water in reservoirs and dredged wells on islands.
It has also handed out plastic containers with a capacity of 2cu.m and water treatment chemicals to each household situated far from the supply network.
The ministry has instructed delta provinces to prevent saltwater intrusion, store water and ensure water is used efficiently.
It sped up work on 19 major irrigation projects meant to prevent saltwater intrusion, and two thirds have been completed and put into use.
They are helping prevent saltwater intrusion in 50,000-60,000ha of farmlands and indirectly helping another 30,000ha.
The saltwater intrusion in the delta is expected to worsen from the end of this month and last until April. — VNS

Saltwater intrusion in the Mekong Delta during the dry season, is forecast to enter local rivers 30-40km deeper than the annual average.
The Mekong Delta may experience sooner and even more serious droughts and saltwater intrusion in the 2019 – 2020 dry season, compared to the situation in 2016 when historic saline intrusion was recorded, an official has said.