Six suspected of poisoning large areas of pine trees in the Central Highlands Province of Lam Đồng have been arrested, Bao Lam District Police announced on Wednesday.
Lam Dong orders investigation into tree poisoning
Three arrested for poisoning pine forests in Lam Dong province
Hundreds of pine trees poisoned in Lam Dong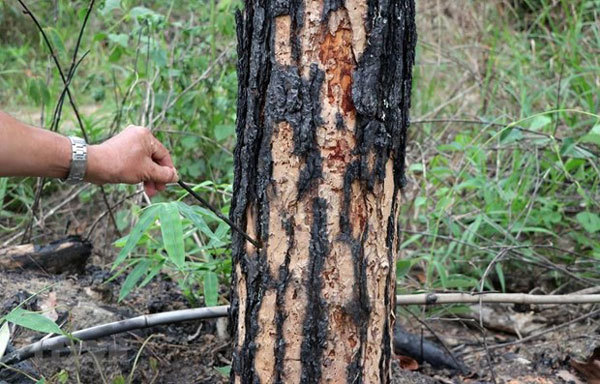 Pine trees were poisoned to death by chemicals. — VNA/VNS Photo
The arrested include 42-year-old Pham Tat Hung, Huynh Xuan Thang, Nguyen Thanh Phong, Tran Nguyen Long Thanh, Nguyen Duy and Nguyen Phuoc Truong.
According to initial findings, Hung, a former banker in Bao Lam District, hired the other defendants to destroy nearly 6,500sq.m of 30-year-old pine forest, planted in 1986 in sub-area no.460, Loc Ngai Commune, Bao Lam District, in order to encroach upon the forestry land.
Earlier, in July, some 600 pine trees were found poisoned. Their trunks had been cut open and the trees' branches were drilled with holes, which were then filled with herbicides.
The forest is under the supervision of the Dam B'Ri Department of Protection Forest Management and surrounded by local residents' coffee and mulberry farms.
After the incident, law enforcement agencies dug a 4km trench to separate the forest from farms and launch an investigation into the case.
In early June, Bach Dinh Ke, 37, the mastermind behind the pine forest poisoning in Tan Thanh Commune, Lam Ha District was arrested.
Ke and his accomplices poisoned thousands of 20-year-old pine trees covering 10ha in the district in May using the same method as Hung is suspected of using.
VNS