Mobile Money, once being put into pilot service in Vietnam, will be an effective solution for promoting noncash payments, stated Minister of Information and Communications Nguyen Manh Hung.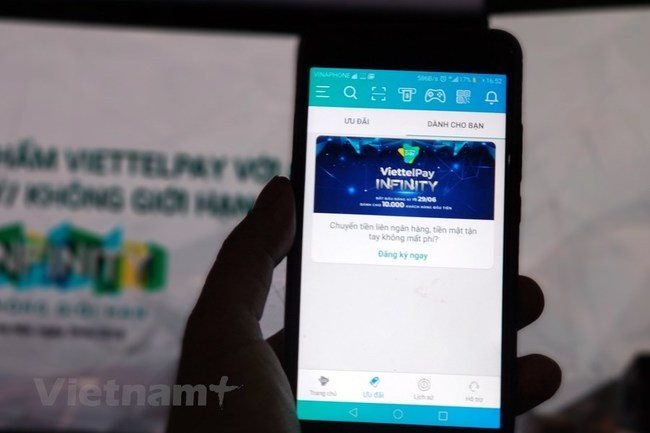 A person uses ViettelPay app to make online payments. Mobile Money once launched in Vietnam will boost the growth of non-cash transactions
The Mobile Money service allows users to transfer and receive money as well as make payments through mobile accounts. It uses a network of transaction points such as customer service agents and ATMs. The service must also be available to people with no bank accounts.
Many topics such as ecommerce, startups and innovation have been discussed at meetings, but an effective payment method, which is the most important tool for encouraging the growth of these areas in the digital age, has yet to be mentioned, Minister Hung told an international conference on Mobile Money on May 23 in Hanoi.
The percentage of credit card holders still remains low in the country, but the density of mobile phone subscribers has exceeded 100% for many years, he said.
Mobile Money is not well known in the country. To date, up to 99% of local transactions worth less than VND100,000 are made in cash.
Accordingly, once the service is launched, it will enable the locals to transfer money and make online payments through mobile accounts in a more convenient manner. Through Mobile Money, people living in rural or remote areas, including poor people, will have easier access to life-changing services offered on the internet, such as healthcare, education, career advice and welfare services.
However, for Mobile Money to be applied widely in the coming days, everyone will need to embrace change and willingly accept the new payment mode, the minister added.
Service providers will have to offer convenient payment methods before its services become popular among the locals, and Mobile Money can do this job well, Hung said.
Mobile Money will also tap into the local rural market, digitalizing the agricultural value chain. Meanwhile, it will encourage the development of digital service operators and step up access to financial services.
Mobile Money is a convincing example of how telecom carriers can provide more platforms for wide-ranging services, apart from solely offering the traditional telecom infrastructure.
According to Hung, if Mobile Money is approved for launch on a trial basis this year, Vietnam will become the 91st country to use the Mobile Money payment platform.
Almost 900 million users of the platform currently conduct daily transactions worth US$1.3 billion, up 20% annually. The Asia region alone has an annual growth rate of 31%. Also, many countries have seen the number of people using Mobile Money exceeding 50% of the total population. SGT