Nha Trang Bay in Khanh Hoa Province is being polluted by wastewater after heavy rains.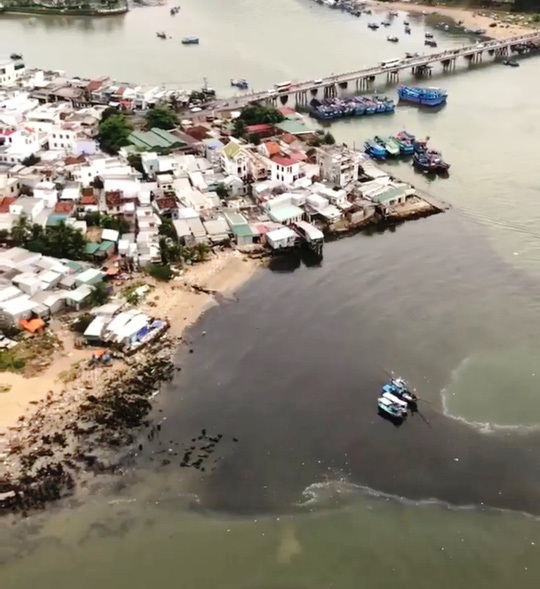 Nha Trang grapples against wastewater
On May 9, blackish wastewater was discharged near Hon Chong Beach in Nha Trang Bay. According to the locals, the wastewater was previously discharged into the sea on May 5. The dark colour and the
smell forced many tourists to abandon their swimming.
Many tourists Muong Thanh Khanh Hoa Hotel in Vinh Phuoc Ward also complained about the pollution when wastewater from Ha Ra residential area was discharged into the sea.
Nguyen Sy Khanh, vice chairman of Nha Trang City People's Committee said due to heavy rains, the pump stations were overloaded and the wastewater had spilt out. They would dredge the canal to deal
with the problem and check the sewage system in Ha Ra residential area.
According to Nguyen Van Dam, director of Khanh Hoa Water Supply And Sewerage JSC, when the discharge sewer was opened at Hon Chong Beach, the planners hadn't thought about the rise of hotels
and apartments in this area so the sewer had become overloaded.
"The drainage system was built for a small residential area, not for so many hotels and buildings," he said. "The temporary solution is to add more pumps but it's not good enough because we can't control
the rainfall."
The World Bank is co-operating with Khanh Hoa People's Committee to carry out the Coastal Cities Sustainable Environment Project - Nha Trang Sub-project with a total USD72m of investment.
The
programme will upgrade the wastewater treatment plants in the southern area, deal with flooding problem in the northern area of Nha Trang City, and improve sanitation as well as flood drainage and erosion resistance of Cai River.
Nguoi Lao Dong/Dtinews