IPhone 12 users in Vietnam are now able to experience 5G. Previously, 5G mobile networks only adapted to high-end phone products from Samsung and some Chinese manufacturers.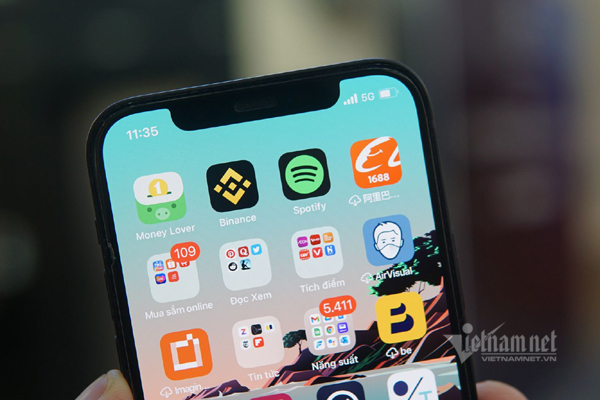 IPhone 12 users in Vietnam can use 5G. Photo: Trong Dat
VinaPhone has announced that its subscribers who use iPhone 12 can use the 5G network. 
Specifically, those who use iPhone 12, iPhone 12 mini, iPhone 12 Pro and iPhone 12 Pro Max can use 5G service in Hanoi, Binh Phuoc and Ho Chi Minh City.
To experience 5G mobile network, iPhone users need to upgrade the software to version 14.5 of iOS operating system.
Just a day earlier, Viettel also announced that its subscribers would be the first iPhone 12 users in Vietnam to experience 5G technology.
According to the 2019 Information & Communication whitepaper, Viettel currently accounts for 50% of the mobile phone market share in Vietnam, while VNPT holds 24.5%.
As both Viettel and VinaPhone provide 5G services to iPhone 12 users, about 75% of iPhone 12 users in Vietnam will be able to access the 5G network.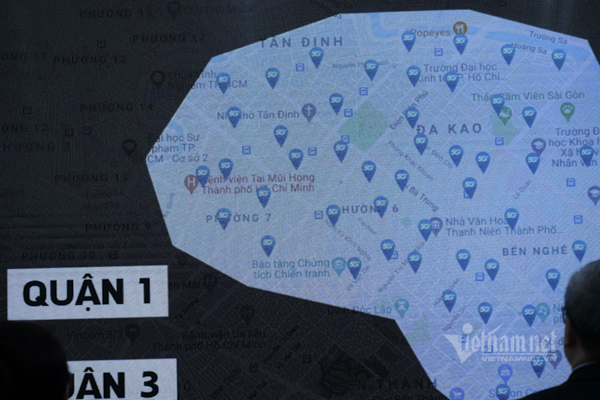 People in five cities and one industrial park in Vietnam now have access to 5G networks. Photo: VinaPhone 5G coverage areas in District 1 (HCMC). Photo: Trong Dat
So far, Apple is the 8th smartphone manufacturer with devices compatible with 5G networks of Vietnamese carriers, which are under trial.
In addition to iPhone 12, the models compatible with 5G network in Vietnam include Samsung (Galaxy Z Fold 2, Galaxy S21, Galaxy S21 +, Galaxy S21 Ultra 5G, Galaxy A32, Galaxy A52…); Oppo (Find X2, Find X2 Pro, Oppo Reno 5G…); Xiaomi (Mi 10T Pro, Mi 11 5G….); Huawei (P40, P40 Pro 5G…); Nokia (8.3 5G); OnePlus (OnePlus 8T, OnePlus Nord 10) and Vivo (X60 Pro, Y72 5G….).
Users of these devices can trial 5G services in Hanoi (Viettel, VinaPhone), Ho Chi Minh City (MobiFone), Binh Phuoc (Viettel, VinaPhone), Bac Ninh (Viettel), Hue (Viettel) and Thu Duc city (Viettel, VinaPhone).
Trong Dat

Minister of Information and Communications Nguyen Manh Hung said that 5G is not just an opportunity to improve connection services and change Vietnam's telecommunications rankings, but also an opportunity to develop the country's ICT industry.