Despite the opposition of the Mekong River Commission and its arm in Vietnam, Laos has built hydropower plants along the Mekong River, so experts at a conference in Tien Giang last week pondered whether it is necessary to raise their protests again.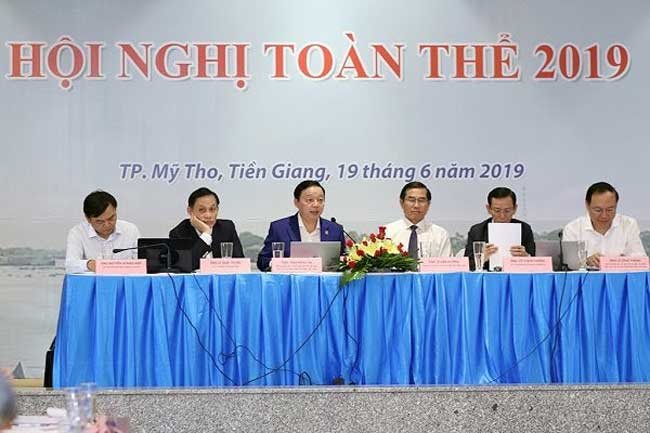 Delegates at the conference in Tien Giang Province on June 19. Laos has developed hydropower projects along the Mekong River despite the opposition of the Mekong River Commission and its arm in Vietnam
According to a report delivered at the first plenary meeting of the Vietnam Mekong River Commission (VMRC), Laos has developed three hydropower plants---Xayaburi, Don Sahong and Pak Beng---along the river.
Specifically, the Xayaburi hydropower project was started in mid-November 2012 and is 95% complete. Laos started operating the first generator of the plant in October 24 last year. All eight generators are expected to be put into operation in September this year.
Meanwhile, work on the Don Sahong project began in January 2016 and is generally completed.
The Pak Beng project has yet to be executed as Laos has not signed a contract to sell electricity generated from the plant, when it is in place, to Thailand.
Before the Xayaburi and Don Sahong hydropower projects were started, the VMRC and leading experts in the Mekong Delta region and Vietnam as a whole had objected to these projects but in vain.
As for the latest project, Pak Lay, Vietnamese experts have again made repeated objections, all to no avail.
At a seminar to provide consultancy services for Pak Lay, held in Can Tho City on January 15, Le Anh Tuan, deputy director of the Research Institute for Climate Change at Can Tho University, said that statistics in Laos' reports on alluvium, water and seafood resources and the ecosystem for the project seem inadequate and incorrect.
Truong Hong Tien, deputy head of the VMRC office, remarked that the impact of the Pak Lay project on the Mekong Delta region alone is insignificant as it is 1,800 kilometers away. However, the influence of all projects along the Mekong River is high. SGT
Trung Chanh

The Fourth Industrial Revolution has created many technological achievements to help people conquer nature, Prime Minister Nguyen Xuan Phuc said yesterday.

Laos builds more dams, scientists worry about Mekong's ecosystem

Over 890 projects in infrastructure with total investment of $9.43 billion are being carried out by in the Mekong Delta by 898 businesses from Ho Chi Minh City, according to statistics of the municipal People's Committee.