The Ministry of Communications and Information has announced the connection of a platform that supports medical examinations from a distance to districts, and the inauguration of the National Technology Center for Covid-19 Prevention and Control.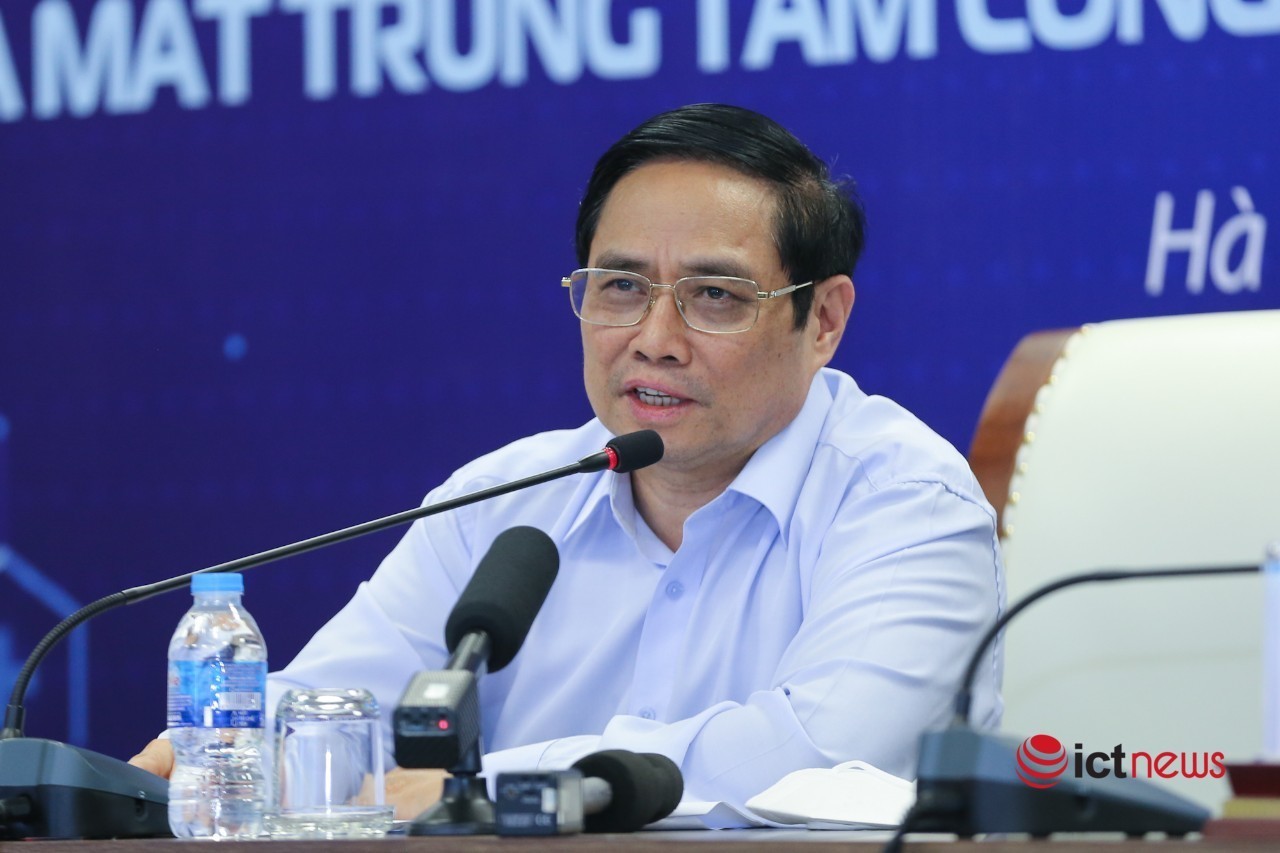 PM Pham Minh Chinh attends the event
PM Pham Minh Chinh, Minister of MIC Nguyen Manh Hung, Minister of Health Nguyen Thanh Long, representatives of Viettel, VNPT and districts' medical units attended the event, held on August 8.
Put into operation in April 2020, the Telehealth platform has connected 30 central hospitals with 1,600 medical units of lower levels. To date, more than 1,600 medical records, 500 consultations and 200 training courses have been organized. Telehealth supports diagnosis and treatment, helping ease overloading at central hospitals.
Telehealth is connected to 100 percent of medical units at district level, helping erase the boundary between the central and lower-level medical units. Difficult cases, including Covid-19 cases, are given consultations from leading specialists without having to transfer the patients to central hospitals.
Chinh himself connected 20 out of more than 700 points of the networks at the same time within two hours on Telehealth platform.
Via the platform, physicians and medical workers at district levels such as Cao Loc (Lang Son), Thong Nhat (Dong Nai), Duc Trong, Gia Lai General Hospital, Bu Gia Map, Hon Quang (Binh Phuoc), Chau Thanh (Tien Giang), Go Cong Dong (Tien Giang) and Dung Quat (Quang Ngai) talked about the number of patients and current treatment situation. Some questions were raised to specialist doctors at end-line hospital of Cho Ray.
Directly managing the connections, Chinh said: "This is a means for us to minimize the death rate. We need to treat well at the grassroots level. It's necessary to treat patients promptly and early from a distance. This is the biggest goal of the system."
Minister of Health Nguyen Thanh Long said previously it took 45 days to connect 1,000 points. Long said this shows the great efforts by the information and communications sector.
Two more tasks in the fight against Covid-19 include online vaccination (with electronic health book) and testing. MIC has been make hectic preparations for these two tasks.
The Ministry of Health plans to ask all medical facilities nationwide to use electronic health books during the biggest ever vaccination campaign in the country. The book will also be used for patients to register for online examination and treatment.
Hung said connecting districts' medical units was a decades-long dream. But the dream was fulfilled within 2.5 days. This happened because of the political determination from the highest to lower levels. 
Duy Vu

The Ministry of Health is cooperating with the Ministry of Information and Communications to develop a "vaccine passport," said Deputy Minister of Health Do Xuan Tuyen at the launching ceremony for the Vietnam Digital Awards 2021 on March 30.

More than 300 medical workers and eight tonnes of medical equipment from Hanoi-based Viet Duc Hospital arrived in HCM City on Thursday to help set up an intensive care centre for severe and critical COVID-19 patients.