The Con Cuong district People's Court in Nghe An has sentenced five local poachers to a total of 13 years and six months in prison for violating regulations on protection of endangered, precious and rare animals.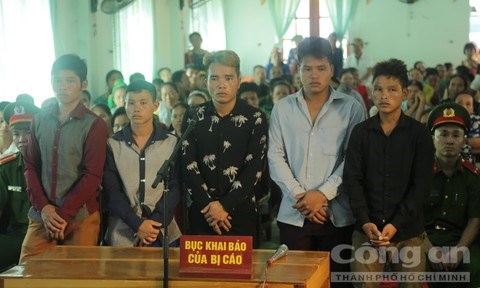 The five convicted poachers at court (Photo: congan.com.vn)


At a mobile trial on June 25, Lo Van Hangand Vieng Van Thuy got four and three years in prison, respectively, Vieng VanSinh was sentenced to 30 months and Lo Van Hau and Vi Van Hai got 24 months inprison each.

According to the verdict, on January 9, 2019,the men took handmade guns and traps into the Pu Mat National Park in Con Cuongdistrict's Chau Khe commune to hunt wild animals. Two days later, Hang and Sinhspotted two Phayre's langurs. Hang shot dead both langurs and kept them intheir tent. The same day, forest rangers of the park discovered the two deadlangurs, five flintlock pistols, five knives and several traps at the poachers'tent along with dried boar meat and a live boar.

The five were prosecuted for violating theregulations on management and protection of endangered, precious and rareanimals according to Article 244 of the Criminal Code 2015.

Nguyen Van Thai, Executive Director of SaveVietnam's Wildlife organisation, said this was the first criminally prosecuted caseof wild animal hunting in the park since 2005.

Tran Xuan Cuong, head of the park, said forestrangers and forest protection groups will intensify patrols around the area, addingthat the park has held 12 training classes for local residents on the laws onforest protection since late 2018.

Phayre's langur is listed as endangered bythe International Union for Conversation of Nature (IUCN). The mammal isendemic to Southeast Asia.

Many Vietnamese people kill wild animals forfood. Hunting, caging, trading, transporting or killing protected wild animalsare all prohibited under Vietnamese law.-VNA

Vietnam is among 16 countries with a high level of biodiversity and is also among the biggest hot spots for wildlife trafficking.

Vietnam has some of the world's most diverse wildlife, but the country's rare species are in grave danger from traffickers.

The Nature Education Centre recently announced the findings of a programme on the assessment of the spread of wildlife violations in 42 districts of nine provinces and cities with the involvement of 12,840 trading establishments.