It has taken 10 long years to perfect, but after a decade of hard work, a professor at HCM City University of Science, is finally seeing positive results.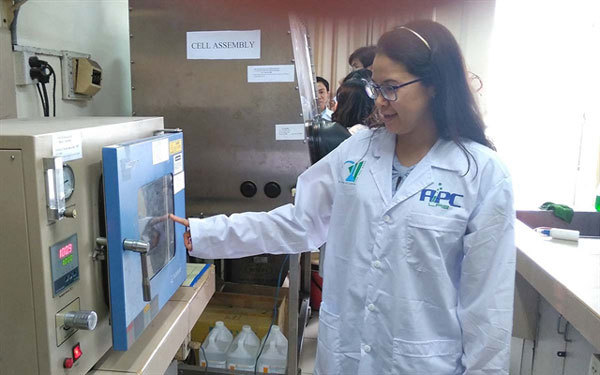 Dr Le My Loan Phung in her lab. — Photo tuoitre.vn

Dr Le My Loan Phung has manufactured the first-ever made-in-Vietnam lithium-ion battery.
But it was by far all her own work. The students at the university played their part to get the plan off the ground.
Seven months ago, more than 200 button-sized batteries were manufactured.
"The batteries are as small as buttons but they are big achievements for our team," said Phung.
According to the professor, Vietnam was lagging behind many countries in the region in this field, and Thailand was about two years ahead.
"Although the domestic production costs of lithium-ion batteries was still higher than imported ones, if we did not properly invest in manufacturing, we would forever be unable to be self-reliant in the energy technology field," said the 36-year-old professor.
"The batteries have high capacity of energy storage. It could be the highest in the rechargeable battery system," she added.
The maximum storage capacity of normal battery is only one third of lithium-ion battery.
And because of its compactness, flexibility and high storage capacity, it will be a valuable addition for future, greener energy use.
Nine years ago, after gaining a master's and doctorate degrees on electro-chemical industry in France, Phung returned to Vietnam and became a professor at the chemical faculty of the HCM City University of Science.
She set up a lab where she could realise her scientific dreams and also create a venue for her students to learn.
Her lab is equipped with many kinds of machines and devices for measuring and testing voltage.
The lab was equipped with modern indispensable machines because Phung did not want her students to be surprised if they had the chance to study abroad.
"I was very happy and proud when students said that 'the labs overseas were the same of ours'," said Phung.
Many students were wondering why their professor could set up a small lab with advanced equipment?
But she had gained valuable experience of what the world was doing during research trips and conferences in the US.
"I could use the knowledge to help my students update new technology to easily pursuit their research in other developed countries," Phung said.
Foreign language – a key of success
Being fluent in English and French and having attended several scientific conferences and workshops in many countries, Phung understands that foreign language is key in the scientific world.
She started learning French while studying there, then taught herself English to help at international workshops.
Now she urges all her students to follow in her footsteps and learn as many other languages as they can.
In the university, she gives lectures in English and asked students to read books and documents in English.
"I encouraged my students to deliver reports in English at international conferences or workshops," she said.
She has also organised student exchange programmes in the US, Japan, France, South Korea and Malaysia to help students improve their language skills and professional knowledge.
"She is not only a professor but also an inspiring scientist to all of us," said Tran Thi Thuy Kieu, one of her students.
Now they all hope the newly developed batteries will be the first of many ideas to come out of their classroom.

In 2030, wind and solar power will be more cost-effective than coal. 

In case these devices have damaged lithium battery replaced by another one that is not included in the list of recall, passengers would be allowed to carry them on board.
VNS