Minister of Agriculture and Rural Development Nguyen Xuan Cuong has asked leaders of provinces and cities across the country to urgently adopt measures to prevent and fight against forest fires amid the long-lasting hot weather.
Border guards suspected of destroying in Phong Nha-Ke Bang forest
Ha Tinh: sea waters invade forested land
Illegal logging threatening protected forest
Serious case of illegal logging found in Quang Binh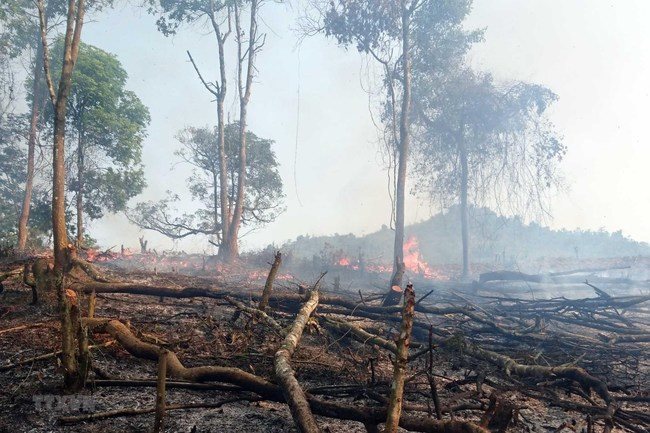 A forest fire rages following farm burning activities by locals in Lai Chau Province. Minister Nguyen Xuan Cuong has asked provinces and cities to be on full alert for possible forest fires during the hot weather
The minister in an urgent warning issued on April 22, said that the scorching heat, which is expected to extend to early next month, has affected most of the country, posing an extremely high risk of possible forest fires in many areas.
Many forest fires have been reported recently in Son La, Dien Bien and Ba Ria-Vung Tau provinces. Of these, 46 hectares of forestland was burned in eight forest fires in Son La and Lai Chau over the last weekend, according to data from the office of the National Committee of Search and Rescue, under the Ministry of National Defense's Search and Rescue Operations Department.
As such, chairpersons of all localities were required to mobilize specialized teams to be on guard 24/7 and carry out regular patrols in fire-prone forest areas, monitor people entering these areas, temporarily suspend the treatment of forest vegetation by burning and quickly detect and put out small fires to prevent wildfires.
Meanwhile, the local authorities must raise public awareness and responsibility among the locals to prevent and fight forest fires. Also, individuals who start forest fires must be subject to penalties, and the source of forest fires must be investigated, stated the minister.
Earlier, the Vietnam Forest Protection Department on April 20 published a list of localities facing a very high risk of forest fires at level 4, including Lao Cai, Dien Bien, Son La and Nghe An. Other provinces that were warned of an extremely high risk of forest fires at level 5 include Yen Bai, Quang Nam and Gia Lai. SGT