Plastic waste is one of the most pressing environmental issues in Vietnam, encouraging the public and private sectors to join forces to address the issue.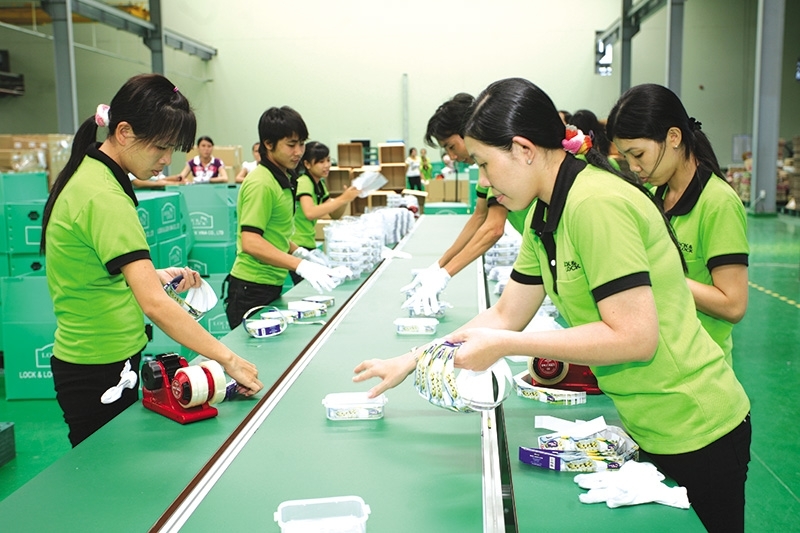 Private enterprises are looking to switch to greener alternatives in increasing numbers
Albert T. Lieberg, representative of the Food and Agriculture Organization of the United Nations (FAO) in Vietnam, said that Vietnam is among the top five countries responsible for the estimated 13 million tonnes of plastic dumped into oceans every year. In Vietnam, single-use plastics are widespread and waste management capacity is limited. Both factors have taken their toll on the environment, and led to a decline in public health.
"It is estimated that 1.8 million tonnes of plastic waste is generated in Vietnam every year, and plastic consumption is increasing 16-18 per cent annually," said Lieberg at a recent Ho Chi Minh City conference on the issue. "Meanwhile, waste management and recycling facilities, and relevant policies are not in place to sufficiently respond to increasing needs. One major concern is a lack of a system for waste segregation at source."
Solving the plastic waste problem will require a concerted effort from both the public and private sectors, and the Vietnamese government has already taken steps towards addressing the issue. The Ministry of Natural Resources and Environment is developing a national action plan on ocean plastic waste management, with a vision towards 2030.
In the private sector, many food retailers have ­announced plans to reduce plastic packaging, and more outlets are reducing the use of items like plastic drinking straws and ­replacing them with more ­environmentally-friendly ­alternatives. Local plastics manufacturers have also joined the movement. An Phat Holdings, for example, produces biodegradable plastic bags made from organic material like corn starch and wheat flour. This is a positive step that will likely encourage more companies to follow suit.
Private business initiatives, especially in the packaging industry, will make a huge impact on plastic waste management. As a leading provider of high-quality and high-performing plastics, BASF has been researching biodegradable and bio-based polymers for more than a decade. One of BASF's innovative breakthroughs is Ecovio, a bio-based, biodegradable, and compostable polymer.
Tanachart Ralsiripong, managing director of BASF Vietnam, said, "Plastics are widely used in many different applications; for example, to carry food safely along the supply chain and store them longer at home. However, the lack of proper infrastructure and behaviour to segregate and treat plastic waste has caused problems. It is a community and system challenge that requires systems solutions."
"At BASF, we create chemistry for a sustainable future," he continued. "We want to take a leadership role as a material producer, joining hands with local authorities and other partners across the plastic value chain to tackle this challenge and help Vietnam drive the circular economy and further its sustainable development goals."
Pham Anh Duong, founder and chairman of An Phat Holdings, said: "The government has developed ­initiatives to support manufacturers in producing eco-friendly plastic products. However, it takes a lot of efforts to solve the root causes of plastic waste. In addition to raising awareness about plastic waste, producers should apply more environmentally-friendly alternatives to their plastic products."
Duong said that An Phat Holdings has developed biodegradable bags from BASF's Ecovio product. The company is now working with supermarket chains like Lotte, AEON Mall and VinMart to introduce its biodegradable bags with the idea of bringing the eco-friendly products closer to consumers. An Phat Holdings has also actively participated in national programmes to address plastic pollution.
Last year, EuroCham also launched its Sustainability Initiatives, inviting all members to take measures to reduce the environmental footprint of their business operations. Through simple steps like no longer using single-use plastic water bottles EuroCham members have, since 2017, prevented the consumption of over 185,000 bottles, equivalent to around 2,600 kilogrammes of plastics.
To combat plastic waste, Lieberg from the FAO in Vietnam suggested that the government should lead by enacting strong policies to push for circular models of design and production, and that legislation must be put in place to curb the production and use of single-use plastic products.
"The private sector must innovate by adopting business models that reduce the downstream impacts of their products. Manufacturers must take responsibility for the pollution that their products are causing today, and make investments in the sustainable product designs of tomorrow," Lieberg said. VIR
Vy Bui

The Vietnamese government has been actively teaming up with the business community to reduce plastic waste by implementing different models of the circular economy.

The movement of saying 'no' to disposable plastic products, especially plastic cups and straws, has forced plastic manufacturers to change production strategies.

Educational institutions in several provinces and Ho Chi Minh City are encouraging their students and staff not to use single-use plastic water bottles and straws as part of the UN's global Beat Plastic Pollution campaign.