The central province of Quang Ngai is completing a dossier seeking the recognition of its Ly Son – Sa Huynh Geopark as a member of the UNESCO Global Geoparks Network (GGN).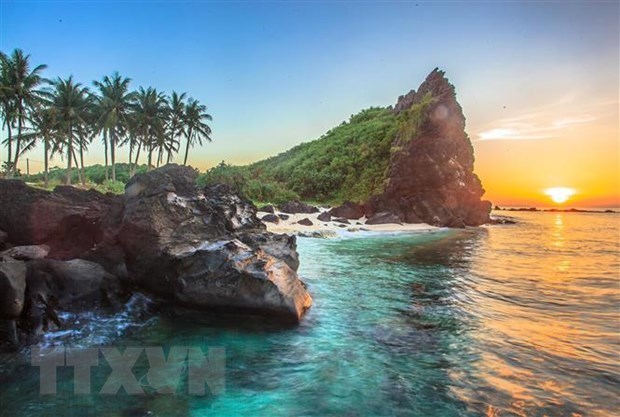 A view of part of the Ly Son – Sa Huynh Geopark in Quang Ngai province
At an international conference on June 18, Secretary of the provincial Party Committee Le Viet Chu said Quang Ngai has been working on a plan to build the Ly Son – Sa Huynh Geopark for many years. 
Thanks to the support of the GGN, the Vietnam National Commission for UNESCO, along with domestic and foreign experts, research activities have basically been completed, specifying areas with geological and cultural values.
The park covers about 2,000sq.km of land, equivalent to 39 percent of Quang Ngai's area, and 2,600sq.km of sea surface along the province's 130km-long coastline.
He expressed his hope that the Ly Son – Sa Huynh Geopark will become a GGN member in the near future.
The official added four tours of some 90 valuable geological sites in this park will be opened soon.
Deputy Foreign Minister Le Hoai Trung, who is also Chairman of the Vietnam National Commission for UNESCO, said the park features the Ly Son – Binh Chau submarine volcano cluster and adjacent areas formed millions of years ago, creating the diversity of unique geological heritage.
It also boasts the combination of tangible and intangible cultural heritages from different eras such as the old and new stone ages, the Sa Huynh Culture, the Champa Culture and the Dai Viet (Great Viet)
Culture dating back thousands of years, he noted.
Vietnam is currently home to two GGN members, namely Dong Van Karst Plateau Geopark in the northernmost province of Ha Giang and Non Nuoc Cao Bang Geopark in the northern province of Cao
Bang.-VNA

Experts say Quang Ngai provincial authorities will create difficulties for themselves in achieving heritage conservation if they do not relocate industrial zones out of the Ly Son – Sa Huynh Geopark.