Water levels of Vinh Phuoc River in central province of Quang Tri has reached the lowest in 15 years, threatening water supply for 30,000 households in Dong Ha City and neighbouring areas.
 Ten thousand families in Quang Tri lack daily water due to drought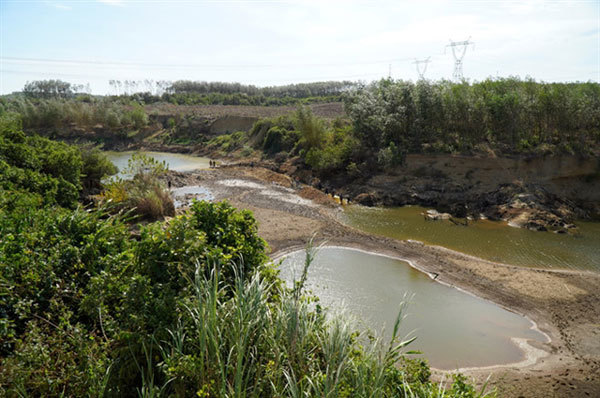 The Vinh Phuoc River's water level has reached the lowest in 15 years, exposing the river bed. — Photos thanhnien.vn
The Vinh Phuoc River supplies 70 per cent of domestic water to the local community.
The water level dropping at a rapid rate of about 7 to 10cm per day.
Experts estimate the current total water capacity of the river is only about 20,000cu.m. If there is no rain in the next five to seven days, the river will dry up.
The Quang Tri Water Supply Company has mobilised machines and workers to dredge the river to search for water but there has been no signs of improvement so far.
The workers are also on duty around the clock preparing to build dykes to hold water.
Le Thanh Ty, deputy director of Quang Tri Water Supply Company told Thanh Niên (Young People) newspaper that if there is no rain and the river dries up, the water supply will meet only 30 per cent of the Dong Ha City's demand.
"We have localised water priority areas, especially hospitals and schools. We have also advised local people to save water, especially during peak hours and store water in preparation for the worst case," he said.
A man walks on the river bed.
So far there have not been any areas completely lacking water. Some areas on Ly Thuong Kiet, Nguyen Du streets are short supply during the day, he said.
In central Thua Thien-Hue Province, reservoirs' water level is reaching dangerously low points.
Hoa My, A La, Ta Rinh reservoirs' water level stays low at 0.7 to 1.5m.
Prolonged droughts have affected more than 1,500ha of paddy fields in the province.
According to the provincial Department of Agriculture and Rural Development, more than 2,200ha of summer-autumn crops in the province will suffer from losses if there is no rain until August 10.

VNS