Educational institutions in several provinces and Ho Chi Minh City are encouraging their students and staff not to use single-use plastic water bottles and straws as part of the UN's global Beat Plastic Pollution campaign.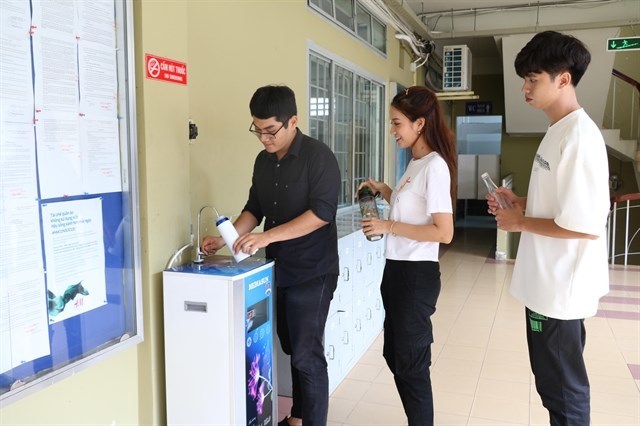 Students at the HCM City Open University bring their own bottles and take water from water purification equipment installed on the campus (Photo courtesy of the university)
An announcement by the HCM City Open University on April 11 said it plans to stop providing single-use plastic water bottles for lecturers from May 15. They will use their own bottles to fill water provided in staff rooms.
On May 5 it will provide reusable water bottles to all lecturers and other staff.
Bottled water and single-use plastic glasses, dishes, straws, and spoons will not be used at meetings, workshops or conferences from May 5.
According to the university, it discards 124,920 single-use plastic water bottles used in meetings and events every year.
It is also encouraging its students to bring their own bottles and use water coolers installed in the campus.
Teachers and students at Hoa Hoi Secondary School in Ba Ria-Vung Tau province's Xuyen Moc district use straws made from citronella by students Nguyen Thi Bao Ngan and Nguyen Huu Khang.
Their invention won the third prize in the provincial Science Technology Contest for students in 2018-2019.
At Vung Tau High School's canteen, styrofoam boxes are no longer used for food sold to students.
The school's students also know they should not use plastic glasses and straws and styrofoam boxes.
Nguyen Van Ba, Deputy Director of the provincial Department of Education and Training, told Ba Ria-Vung Tau Online newspaper that his department instructed all schools in the province last month to minimise the use of single-use plastic products to protect the environment. It immediately achieved the intended results, he indicated.
Reusable water bottles have replaced single-use ones at department meetings as instructed by the provincial Party Committee, he added.
At the Ly Tu Trong High School for Gifted Students in the Mekong Delta city of Can Tho, teachers and students have been encouraged not to use plastic products for the last one year.
Teachers bring their own reusable water bottles to school and lunch boxes for food they buy near the school.
The school's Zero Waste Club teaches students how to classify garbage and sell recyclable waste. The money thus raised is used for the club's operation.
According to the UN, each year 500 billion plastic bags are used, 13 million tonnes of plastic leak into the oceans and 17 million barrels of oil are used for plastic production.
Globally, a million plastic bottles are bought every minute and 100,000 marine animals are killed by plastics every year. It takes 100 years for plastic to degrade in the environment.
Ninety percent of water bottles are found to contain plastic particles as is 83 percent of tap water, 50 percent of consumer plastics are single use and 10 percent of all human-generated waste is plastic.
About half of all of the plastic waste that ends up in the oceans comes from just five countries: China, Indonesia, the Philippines, Thailand, and Vietnam.
These countries are experiencing rapid economic growth, which is reducing poverty rates. But as these economies grow, consumption booms - and so does the use of plastic goods.-VNS