A female university lecturer is leading a group of scientists in the battle against dementia.
VN female scientist discovers way to help treat Alzheimer's
Vietnamese scientist at Gachon: I will return to Vietnam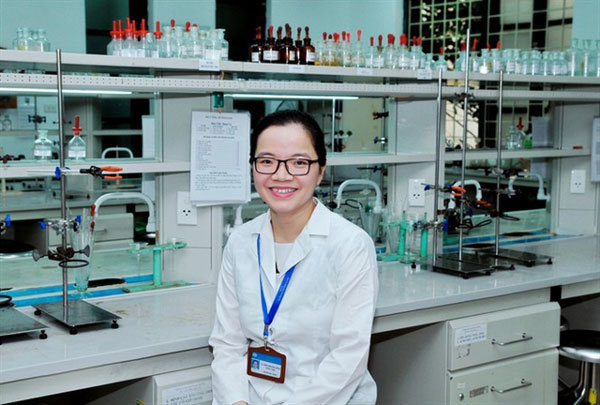 Dr. Tran Phuong Thao in his laboratory where she and her colleagues found substances for dementia drugs. tienphong.vn Photo
Dr Tran Phuong Thao, a 35-year-old lecturer at pharmaceutical chemistry faculty of the Hanoi University of Pharmacy, is working on a drug to inhibit the agents that cause the degenerative disease.
After graduating from Hanoi University of Pharmacy in 2009 with a bachelor's degree in pharmaceuticals, she spent a lot of time seeking a scholarship to pursue her passion for scientific study.
"Finally, I got a full scholarship from Seoul University in South Korea in 2010," Thao told Tiền Phong (Vanguard) newspaper.
"Fortunately, the same year, my husband also received a scholarship from a university in South Korea. We decided to leave for South Korea together," Thao said.
During their five years studying abroad, the couple had their wish to start a family and rented a room in a dormitory near Thao's laboratory.
"Every day, I started work in the laboratory very early and finished around 10pm," Thao recalled.
"Sometimes I left the lab at midnight," she said.
Thao was trusted by her professor to carry out many projects including research on a new drug for Alzheimer's.
This was completely new research in South Korea, she said.
"At that time, all over the world, there was only one group of scientists in Germany doing similar research", she said.
She faced many difficulties because it was a new topic.
"Alzheimer is a disease that causes memory loss which usually starts slowly and gradually worsens over time and affects all functions of the brain," she said.
"Currently, there is no cure for the disease but only symptomatic treatment," she said.
After finishing her studies in South Korea in 2015, Thao returned home and continued researching drugs for the disease with her colleagues at Hanoi University of Pharmacy.
Despite knowing their work could take decades and cost a lot of money, Thao and her colleagues never gave up.
After six years of hard work, her group found some new derivatives that may inhibit enzyme glutaminyl cyclase, one of the agents causing Alzheimer's.
Thao's research has passed the initial testing phase and is currently being tested on animals.
She hopes the derivatives will be clinically tested in humans soon to develop drugs to treat the disease.
"I knew it was a long way from finding a potential active substance in the laboratory to developing a drug for disease treatment," the scientist said.
"It needed many essential conditions such as time, money, facilities and legal provision," she said.
Cancer treatment
Along with research for Alzheimer's, Thao is also interested in cancer and is carrying out a State-level study project on drugs for cancer treatment.
Thao and her colleagues hope to find new substances to activate enzyme caspase which helps kill cancer cells.
The project which is being run from 2017 to 2020 is funded by the Ministry of Science and Technology.
This was one of her biggest projects after returning home from South Korea.
It was also the time when she was pregnant and raising her baby, making work-life balance tough to maintain.
"In the evening, after lulling the baby to sleep, I got up to continue my work," Thao said.
"Some days, I worked until 2am," she said.
"I felt lucky having my husband, family, friends and colleagues supporting me. It urged me to work harder," the scientist said. VNS

At the age of 30, Dr Tran Van Hung turned down a job opportunity in Japan and returned to Vietnam to work. He is the author of 16 SCI/SCIE articles published in Ranking Q1 international journals.