Brown rice and silkworms can be used as a growing base for cordycep muhrooms, which are very expensive and seen as 'soft gold'. Cordyceps has made people in the northern province of Ha Giang rich.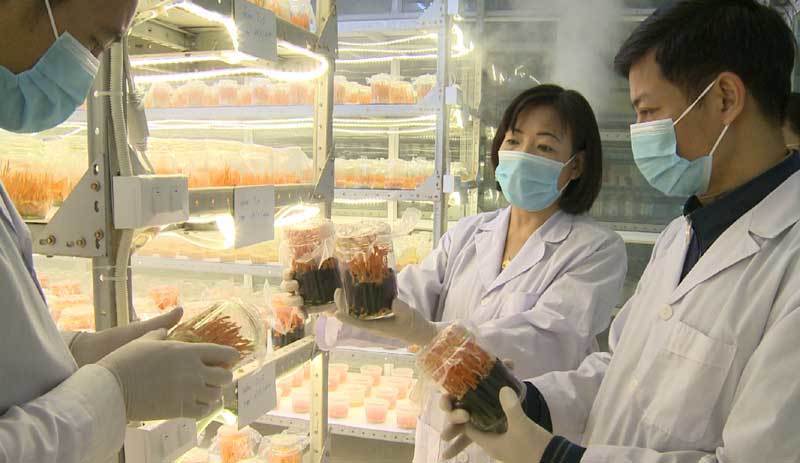 Cordyceps is of the fungi genus that includes about 600 species. All Cordyceps species are parasites of mainly insects and other arthropods, while a few are parasites of other fungi. In winter, the parasites live in pathogens. In summer, when temperatures rise, the mushroom grows into a plant.
In Vi Xuyen district in Ha Giang province, a locality in the northern border area, these are also used as a growing base for cordycep mushrooms.
Phan Van Dong, director of the Ha Giang provincial Department of Science and Technology, said the project to produce cordyceps on the growing medium of brown rice and other hosts in Ha Giang, which began last year, has changed the way of thinking about production and has improved people's lives.
Tran Thi Thu Ha, head of the Institute of Forestry Research and Development (IFRAD), said that cordycep growing technology on an industrial scale is a new technology being applied in Vietnam.
The value of cordyceps is heavily affected by the cultivation process. Different cultivation conditions will create cordyceps with different medicinal content.
Cultivation is done in a controlled environment and regulated by machines. "Running this project, we decided that high quality is the top priority. That is why we chose to produce cordycep in an area with the most favorable conditions – Ha Giang," Ha said.
The project helps people master the technology of growing cordycep on different media in artificial and semi-natural environments.
The project beneficiaries now grow cordycep in both chambers and semi-natural conditions, and on different hosts with high quality and low production costs.
The growing of cordycep in semi-natural environment requires favorable natural conditions, suitable for the cultivation of hosts as well as the mushrooms. Ha believes that Ha Giang has favorable natural conditions to develop cordycep this way.
Meanwhile, Dong said the project has prompted people to shift from cultivating low-value crops to higher-value crops.
The households that grow mulberry and cassava and breed silkworms now have stable sources of income from selling their products to companies that produce cordycep mushrooms.
Cordyceps is used to treat many diseases. It can help strengthen the immune system, improve athletic performance, reduce the effects of aging and promote longer life and improve liver function in people with hepatitis B. 
Ha An

Using nanotechnology, researchers from the Vietnam Academy of Science and Technology have created an anti-osteoporosis product from violet ba kich (Morinda officinalis).

A research group led by Assoc. Prof. Tran Dang Xuan at Japan's Hiroshima University recently publicised a study on the potential application of a grass species scientifically known as Andropogon virginicus which is good for human health.