Nuclear and isotope techniques are being used in water sources treatment, pollutant tracing, and environmental treatment.
1/The Vietnam Atomic Energy Institute (VINATOM) and International Atomic Energy Agency (IAEA) on April 4 inaugurated IAEA-VINATOM Cooperation Center for Water and Environment. This is the first center in Vietnam and the third in Asia established by IAEA in cooperation with host countries.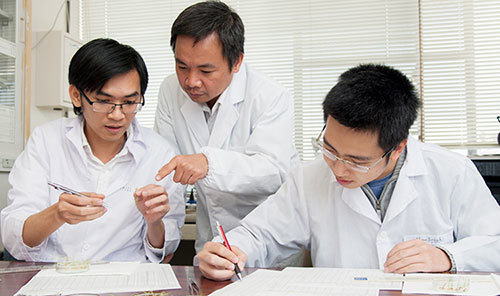 Tran Dang Xuan (middle) and his co-workers
IAEA believes that water and environmental problems need to be settled as Vietnam is a developing country affected by climate change.
VINATOM director Tran Chi Thanh hopes that in the context of Vietnam's air and water pollution, IAEA and Vietnam specialists will be able to find solutions with new technologies.
2/ In an effort to ease pollution, Hanoi plans to install grease separating equipment at state-owned schools in all districts of the city.
IAEA believes that water and environmental problems need to be settled as Vietnam is a developing country affected by climate change.

The Hanoi Water Drainage Company has announced it successfully tried the grease separating technology at restaurants, schools and service centers in Hanoi.
The system looks like a water tank with two compartments. When going through the filtration system, grease will float above the surface in one compartment. The remaining compartment will contain treated waste water.
Experiments were carried out at 60 restaurants and state-owned schools in Hoang Mai, Cau Giay, Hoan Kiem, Long Bien and Hai Ba Trung found that 90 percent of grease could be split before reaching the environment.
3/ Tran Dang Xuan from Hiroshima University announced in Molecules, an international science journal, the discovery of two compounds Momilactone A and B (MA and MB) in white rice. The market value of the compounds is $1.25 million per gram, or 30,000 times more expensive than gold because it is very difficult to make.
Discovering the presence of the compounds in rice and rice husk, after three months of refining 20 kilograms of rice husk, Xuan and his co-workers collected 300 mg MA and 200 mg of MB (1/100,000-1/150,000 of rice husk weight).
Xuan said his ambition is to make pharmaceutical products supporting the treatment of obesity and diabetes. He also wants to create a more valuable Vietnamese rice variety.
4/ The 2018 Kovalevskaia Award has been granted to Prof Nguyen Thi Lan, director of the Agriculture Academy, the youngest female professor in the history of the veterinary industry in the country.
Nguyen Thi Lan was praised for her outstanding achievements in research with 105 scientific articles published in Vietnam and internationally. She is the author of many research works and products, including a vaccine against Care disease, and a kit for fast testing of respiratory and reproductive disorders syndrome (PRRS) or blue ear disease in pigs.
RELATED NEWS

Vinagamma radiation center uses high tech to treat toxic waste, emissions
Agriculture gets nuclear boost
Kham Pha