The number of vehicles is on the steep rise in HCMC, with scooters making up a staggering 37% of exhaust emissions, said an expert at a roundtable on the environment in HCMC on April 19.
Low-carbon agriculture tech transfer key to comprehensive environmental treatment
Climate change: Worries over CO2 emissions from intensifying wildfires
Ministry sets stricter emission standards, old cars to disappear from circulation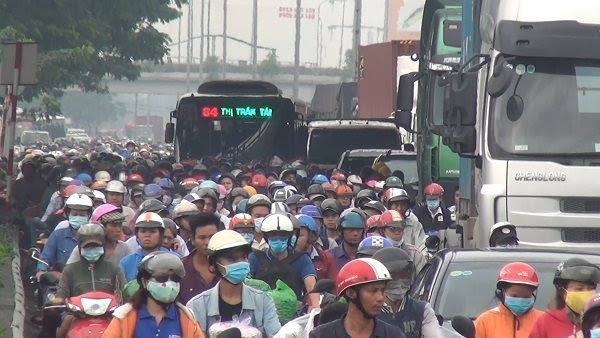 Scooters' users are stuck in a serious traffic jam in HCMC. Scooters account for a large proportion of vehicle emissions
Associate Professor Ho Quoc Bang, a researcher on air pollution in HCMC, said that the city is suffering heavy air pollution, which affects the quality of life among local residents. Air pollution is getting worse if specific goals and actions are not taken in a timely manner.
He noted that traffic accounts for the largest proportion of emissions. For example, traffic activity makes up a whopping 99% of the city's total carbon dioxide emissions. Emissions from scooters, due to their road surface, brake and tire friction represent a combined 37.7%.
Echoing a similar view, Associate Professor Ho Quoc Bang said that the number of vehicles is fast increasing in the city, making traffic congestion worse.
Many two-wheeled vehicles using old engines and without maintenance are also a source of pollution, according to Hoang Duong Tung, former deputy head of the Vietnam Environment Administration.
Therefore, he called for the control of emissions from mobile waste sources, such as scooters and cars, with new emission standards like Euro 2, Euro 4 (2017) and Euro 5 (2022).
Experts suggested that the central Government should take drastic measures to check emissions for all motorcycles, not just vehicles of 175 cubic centimeters or more.
They also called for the pilot implementation of projects to improve public transport, raise public awareness of air pollution, and develop automatic air quality monitoring systems. SGT