Authorities in the Mekong Delta province of Kien Giang have announced that there has been serious erosion of the sea dikes in the Kim Quy-Tieu Dua area in the communes of Van Khanh and Van Khanh Tay, An Minh District.
River erosion becomes dangerous in Kien Giang
Mekong Delta losing land from subsidence, landslides
Climate change impact worsening in Kien Giang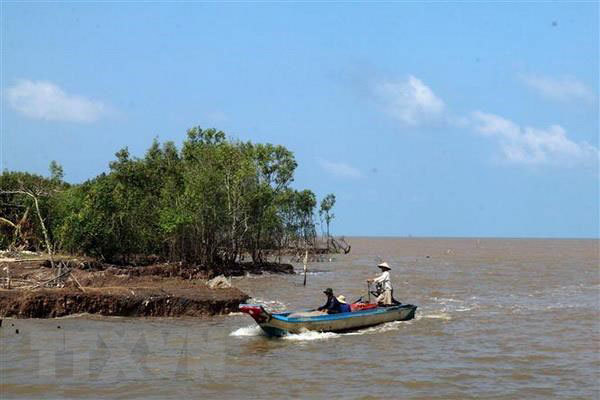 A damaged dike in Van Khanh Commune, An Minh District in Kien Giang Province. The impact of climate change and rising sea levels have accelerated the erosion of sea dikes in the Mekong Delta. — VNA/VNS Photo
At least 250m of the 4.2km-long Kim Quy-Tieu Dua sea dike have been eroded. There are 10 other damaged areas along the dyke's bottom, each between 25 and 150m deep.
Thai Van Bich, Deputy Chairman of Van Khanh Commune People's Committee, said the coastal erosion was very serious. Sea waves broke several sections of the dike, affecting the daily lives of 20 local families.
Hundreds more households along the dike could be threatened.
Communal authorities have encouraged families living in dangerous areas to temporarily stay with friends or relatives in safe places.
The situation could worsen during the peak of the storm season in July and August, and the commune is already struggling to find land for affected families to live.
Some houses have already fallen into the sea due to erosion and many others are in danger of a similar fate but have not yet been relocated.
Many people have built temporary wooden houses 20-50m from the coast. These could prove dangerous during the coming storm season.
Truong Quoc Thang, a resident of Kim Quy village, Van Khanh Commune, is worried about erosion and landslides every time there is a storm.
"Local people are very afraid but we have no place to move," Thang said. "My house is located 200m from the sea, but erosion is coming near my house. If the erosion becomes serious during the storm season, my house could fall into the sea."
Nguyen Huynh Trung, Deputy Director of Kien Giang Province's Irrigation Department, said it needs about VND7 billion (US$300,000) to reinforce the damaged dike system.
The provincial authorities are waiting for the Government to approve a World Bank loan to build a 10km sea dike from Tieu Dua to Vam Chu Vang.
Provincial authorities have proposed the Government provide funding for an embankment project to prevent coastal erosion at An Bien-An Minh coastline.
The provincial People's Committee also instructed An Minh District to closely monitor erosion, report any updates to relevant agencies, move local people to safe places and prepare to mobilise rescue forces.
The Mekong Delta, which supplies most of Vietnam's rice exports, is the country's most vulnerable area to climate change and sea level rise.
VNS