Education for Nature – Vietnam (ENV) has released its latest documentary depicting a remorseful bear farmer who decides to surrender his captive bear.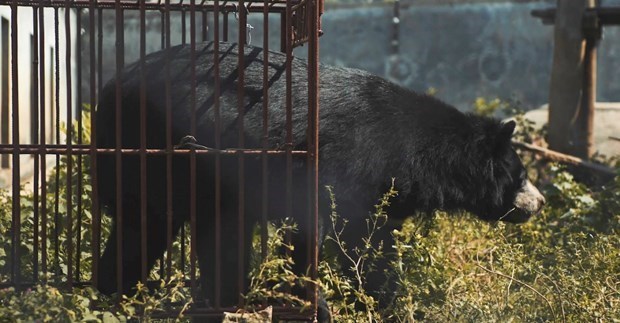 A bear comes out from his cage, a scene cut from the short film by ENV. — Photo courtesy of ENV
Entitled 'Make Bear Bile Extraction a Nightmare of the Past', the short film is intended to make the case against bear farming and the usage of bear bile products, ultimately putting an end to the bear farming industry in Việt Nam.
The film begins with a bear lying inside a cold rusty cage, delirious from drugs and tormented with pain. He is then freed by his regretful farm owner who decides to bring him to a rescue centre for a better life.
Through the bear's point of view, the audience is subjected to the disturbing experience of bile extraction as the animal watches his owner laugh incessantly at his misery.
However, the terrifying ordeal is soon revealed to be a nightmare of the past. Previously tortured for his bile, the bear has now been transferred to a sanctuary by its regretful owner.
"Many bear farmers in Việt Nam might relate to the man in the Public Service Announcement (PSA)," says ENV Vice Director, Nguyễn Thị Phương Dung.
"The bear bile industry was once profitable and in-demand. However, as more people choose to not buy bear bile, more farmers are asking their bears for forgiveness and giving them better lives at a rescue centre."
Dung added that the film is produced with the aim to call on bear farmers to release their captive bears.
It's the result of co-operation between ENV, Four Paws International, World Animal Protection, and Vietnamese authorities.
ENV, the first NGO focused on the conservation of nature and the protection of the environment founded, began efforts to end bear farming in Việt Nam in 2005, when bear farming was at its peak. At the time, there were over 4,300 bears being exploited for their bile. ENV has since reduced that number to 432 captive bile bears as of December 2019. As a result, now 34 provinces in Việt Nam are bear-farm free.
The new film will be broadcast on both national and provincial TV channels throughout Việt Nam in the coming months. Viewers can also watch it online on ENV's YouTube Channel at https://youtu.be/6ax2awqN-cU. — VNS

A bear sanctuary in Nho Quan district, the northern province of Ninh Binh has become an attractive destination for tourists, especially foreigners.

Six bears, that have shown signs of having sickness have been rescued at a farm in Binh Duong Province by the Austria-based Four Paws organisation.