A speech to text program has been selected to the final round of the Vietnamese Talent Awards 2019 which will be held on November 15 in Hanoi.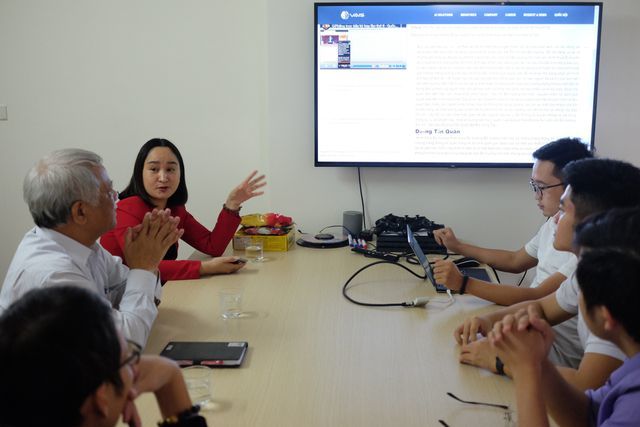 Judges impressed by speech to text software
Origin-STT is one of 19 products that have been selected to the final round of the Vietnamese Talent Awards.
Led by Do Quoc Trinh, the group has invested software than can quickly translate Vietnamese speech to text. It has been tested during the National Assembly meeting sessions. The speech was translated almost immediately with an accuracy of 93.6% and it can also recognise the accents from the northern, central and southern provinces. Moreover, it can recognise and automatically capitalise names.
However, if there were several people talking at the same time or if someone was speaking with background noise, the text had many errors. According to Trinh, Origin-STT can be applied in various fields and situations. It is currently being used at state offices and by many media agencies.
After 15 years, Vietnamese Talent Awards has been the launchpad for many inventors and many products at the awards continued winning other international awards or widely used in daily life. 
Vietnamese Talent Awards was first held in 2004 and mostly honour works and creators in the information and technology. After 15 years, its categories have been expanded to medicine and the environment. Both well-known experts and self-taught inventors are honoured.
This year, the awards will be held near the Teachers' Day (November 20), as a tribute to the teachers.
The Vietnamese Talent Awards were launched at the Vietnam Global Leaders Forum in Paris for the first time by Pham Huy Hoan, Dantri's editor-in-chief. Many people in the US and Switzerland have submitted their products to the awards.
Vietnamese Talent Awards has been the award of the society and for a developing society.
The award will be held on November 15 at the Hall of the Ministry of Defence and broadcasted live on VTV2 at 8 pm. Dtinews

The Japanese Embassy in Vietnam has announced that another 36 overseas education consulting firms in the country have been stopped from representing their student customers in applying for Japanese visas.  

In the era of technology 4.0, QR Codes are being applied in many areas of life. The use of QR codes to take attendance for lectures is a new way of using this technology that a university has adopted.

Employers are complaining about the lack of skills of Vietnamese students and university graduates. Many of them don't even know how to write an application for a job.