The State Bank and the Ministry of Transport led ministries and ministry-level agencies in the cyber security readiness rankings in 2020,
which were released by the Ministry of Information and Communication (MIC)'s Authority of Information Security on October 27 as part of the Vietnam Security Summit 2021.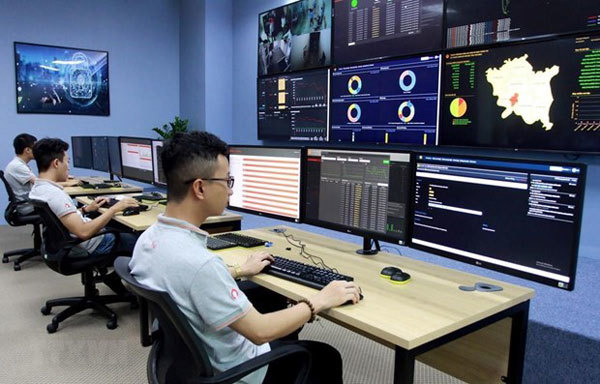 Illustrative image. VNA/VNS Photo
Among 26 ministries and ministry-level agencies, the State Bank and the Ministry of Transport were rated at A level, while it ranked 19 others B and five at C.
Among 63 cities and provinces, the A rating was awarded to Can Tho, Da Nang, Quang Ngai, Quang Ninh, Thai Nguyen, Thua Thien Hue and Vinh Phuc. Forty-five others were rated at B and 11 at C.
A indicates the highest level of readiness, B denotes decent readiness, and C means medium readiness.
The report is expected to not only help Vietnam promote cyber safety but also raise awareness of leaders of ministries, agencies and localities on the issue.
It was the third year the MIC has compiled the rankings that cover 26 ministries and ministry-level and Government agencies (excluding the Ministry of Public Security, Ministry of National Defence, and the MIC), and 63 provinces and centrally-run cities nationwide.
The results are based on actual assessments and surveys in the five pillars of legal, technical, organisational measures, capacity development and cooperation similar to that of the International Telecommunication Union (ITU)'s Global Cybersecurity Index.
Source: Vietnam News

Viettel Cyber Security Company has issued a report on Vietnam's information security situation in the first six months of 2021.

Vietnam saw significant improvements in its cybersecurity landscape in 2020 despite the challenges posed by the Covid-19 pandemic.