"What is behind such high mountains?" The innocent question used to appear regularly in the mind of Dr Ngan Luong, a member of the Tay ethnic minority group.
"What is behind such high mountains?" The innocent question used to appear regularly in the mind of Dr Ngan Luong (Emily Ngan Luong), a member of the Tay ethnic minority group, while she was a little girl walking through mountains to the local primary school in a very poor and remote area in the northern province of Cao Bang.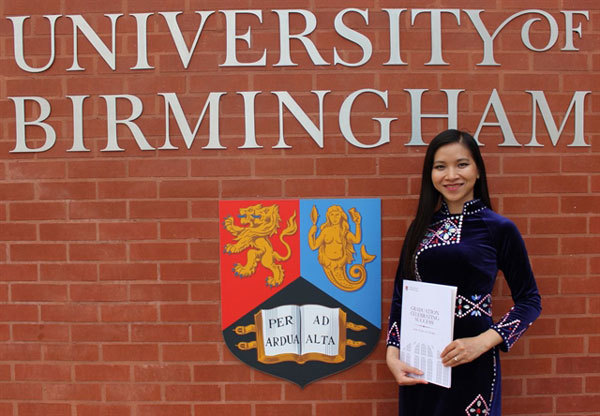 Dr. Luong Ngan in her Tay traditional dress outside the University of Birmingham. VNA/VNS Quoc Dat
Now, dozens of years later, Ngan, now 33, has grown up enough to discover more about life. However, her thirst for knowledge is still as strong as ever.

Thus, with a PhD from the University of Birmingham, UK and as one of the youngest course directors at UK-based London South Bank University, she wondered: "What can I do to relieve hardship for people in my hometown?"
Ngan said the question was both an extraordinary motivation and encouragement to overcome all difficulties to study and work overseas.
"It is always a desire deep in my heart that I can return to contribute to building my homeland," said Ngan.
We met Ngan when she returned to Cao Bang to help the province research tourism development. We all were surprised at the young, but energetic girl.
Her distinguished academic record helped earn her a promotion to the head of the post-graduate marketing management programme at one of the world's most prestigious schools but could not stop her determination to continue on her own way to success despite increasing challenges.
Born in a very poor family and going to school in De Ga Village in Thong Nong District – the poorest area of Cao Bang, every day, Ngan had to walk many kilometres to school. At night, as her home village was not connected to electricity, she had to use an oil lamp to study.
Such difficulties could not hinder her determination to get an education. Ngan achieved outstanding results throughout her school career.
After graduating from the Foreign Trade University, Hanoi, Vietnam, Ngan found a stable, well-paid job but knew she wanted more. Her dream was to travel outside of Vietnam, see what the world had to offer and return to help her poor community.
Ngan applied for a Master's degree at Strathclyde University, Glasgow, the UK in 2011.
As the cost of living and tuition fees were very high and her family was unable to support her, Ngan managed to find jobs as a waitress, shop keeper and interpreter.
She said at first she was very stressed and always felt exhausted but then found it was a challenge for her to show off her extraordinary spirit.
In 2012, Ngan's Master's thesis was highly appreciated by Strathclyde University.
The thesis included her work in restaurants in Vietnam and the UK, highlighting the role of social media in restaurant management and marketing.
After finishing the Master's programme, Ngan was accepted for a PhD programme at the University of Birmingham.
She said the huge costs of the PhD programme in one of the most expensive countries in the world together with the extremely strict requirements of the training programme sometimes made her collapse and nearly give up.
Fortunately, thanks to her excellent English skills, Ngan found a job as an interpreter and was able to cover tuition for the programme. She was also at the same time invited to join the tutorship at London South Bank University.
In 2017, Ngan finished her doctoral dissertation in front of a council of many prestigious scientists in the field of business and marketing.
She was awarded a doctorate degree right after the presentation and surpassed hundreds of candidates from many countries to be selected as a lecturer of London South Bank University – a prestigious university with top quality teaching.
After only a short time, she was appointed as course director of the post-graduate marketing management programme at London South Bank University.
Despite a prerequisite of having at least three years of experience in the trade in order to take the position, Ngan was able to leverage her PhD and intricate understanding of marketing theory in order to convince the University's administrators that she was the right person for the job.
"Accepting the position as a course director, I was really worried because at that time, the faculty included highly experienced professors and doctors. Fortunately, those who are young like me are always fully respected and supported there," said Ngan.
The talented doctor still remembers walking to school through the mountains, her mind filled with questions.
And now, even with her success and although she is busy with work abroad, she tries to spend time planning activities to support her homeland in Vietnam.
She does her best to make social contributions to causes which benefit the country and often contributes to funds and international projects in Cao Bang.
Among her visions is the well-drafted plan to bring Cao Bang to the forefront of the tourism scheme in the country.
Ngan was invited to participate in developing tourism and marketing for the province and her contacts are currently formulating a plan to build a geographic park named "UNESCO Terra Nova", hoping that it will promote sustainable tourism and raise environmental awareness among locals.
Early this year, Ngan returned to Cao Bang for two weeks, arranging a full schedule working with the provincial authorities.
She compiled and promoted two training courses for farmers, interacted with young businesses in tourism, and participated in a project on developing logistics services to meet import and export needs through provincial border checkpoints.
The young PhD holder also held and directly taught classes of advanced English for local students. Through those classes, Ngan said she wanted to light up a flame of passion for poor ethnic students to discover knowledge and conquer the peaks of success.
Though she loves working in the UK, Ngan promises that Vietnam and her homeland Cao Bang will always hold a special place in her heart.
Van Dat Phuong
VNS