Technology is a supportive tool of the health sector in COVID-19 prevention and control, and is a means for people to cooperate with the health sector, experts have said.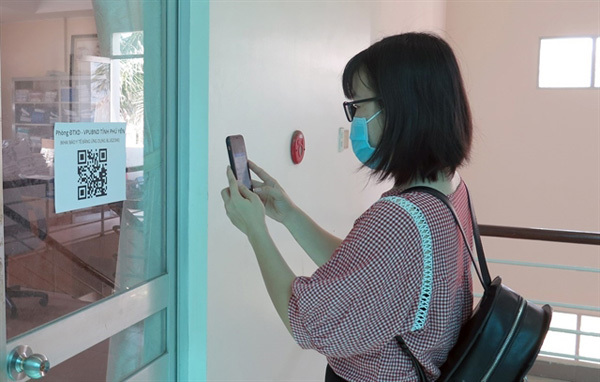 A resident makes a medical declaration via QR code in the central province of Quang Tri. — VNA/VNS Photo Xuan Trieu
Nguyen Truong Nam, deputy director of the Information Technology Department under the health ministry, said that many technological solutions were used for COVID-19 prevention and control, such as the coronavirus vaccination management platform with four main application systems: electronic health book application, a public portal of COVID-19 vaccination information, the national immunisation support system and response centre, the Telehealth - telemedicine system, as well as the Bluezone application and NCOVI.
Evaluating the COVID-19 vaccination management platform, Deputy Minister of Information and Communications Nguyen Huy Dung said it was the first time Vietnam had organised a national shared platform that supports many ministries, industries and concerned organisations to fight the pandemic.
The information technology platform will help people conveniently participate in vaccinations. The entire process including vaccination registration and results can be managed through the electronic health book application or the COVID-19 immunisation portal.
This platform ensures the "dual goal" of deploying the fastest and widest vaccinations while ensuring safety, efficiency, transparency, and support for management, monitoring and research.
In the first 20 days of implementation, from July 10, the total number of people downloading the electronic health book application was more than 1.54 million. More than 2.58 million people registered for vaccination through the electronic health book application and more than 1.66 million people registered for vaccination through the COVID-19 immunisation portal, according to Viettel, which deploys the national COVID-19 vaccination management platform.
Do Cong Anh, deputy director of the Authority of Information Technology Application, said that when using the COVID-19 vaccination platform, each citizen has a QR code and an electronic health record. QR codes are not only a tool to support people during the pandemic, but will serve many services related to digital government, digital economy and digital society.
Deputy director Nam said that in the context of the COVID-19 outbreak, in order to quickly localise affected areas, besides basic preventive measures and vaccine, technological factors have helped prevent and combat the pandemic.
If information technology is well applied through data obtained from people's medical declarations and other medical information on the software application, authorities can get data on F0 cases within 14 days.
The organising of sampling testing, if using traditional method, will take time in large-scale testing and returning results. Applying information technology makes the process quicker and simpler.
With three steps to declare information on the mobile application, the process of implementing large-scale testing is optimal, saving time, costs and manpower.
The Ministry of Health has issued a number of documents guiding the application of information technology locally. It will coordinate with other ministries to deploy solutions in pandemic prevention and control. 
HCM City's application
Nguyen Anh Thi, head of the HCM City Hi-Tech Park Management Board said that application of technology solutions in COVID-19 prevention in HCM City was still weak and not fitting with practical needs of people and businesses. A combination of vaccination, preventive measures and technology application should be implemented synchronously going forward.
He made the comments at the "Technology to prevent COVID-19 in industrial and technological zones" online conference organised by the HCM City Informatics Association in collaboration with the municipal Department of Science and Technology last Thursday.
In order for businesses to adapt to the "new normal" situation and ensure production and worker safety, Thi emphasised the importance of combining vaccinations and strict implementation of preventive measures and technology.
The HCM City Hi-Tech Park Management Board has also put into use an employee management software system.
Accordingly, enterprises will comprehensively update the list of employees going to work. Thereby, they can be proactive when COVID-19 occurs. In addition, using the employee's data source combined with the epidemiological map of the city, enterprises can monitor the route of employees, thereby expanding production more safely.
Chu Van Hai, deputy director of the HCM City Department of Science and Technology, said that the department was organising a programme "Finding and connecting innovative solutions to cope with COVID-19 pandemic in HCM City 2021".
It also has a number of programmes and policies to support enterprises in researching and applying technology for production and business activities.
Source: Vietnam News

Artificial Intelligence (AI) technology is already playing a role in managing the current pandemic and could play an even bigger role in the future, according to Deputy Minister of Science and Technology Bui The Duy.

The vaccination management platform is the first national technology platform shared by ministries, branches, local authorities and relevant parties to join forces to fight Covid-19.