The coastal path in Hau Loc District is the most polluted area in Thanh Hoa Province as it has become an illegal dumping site.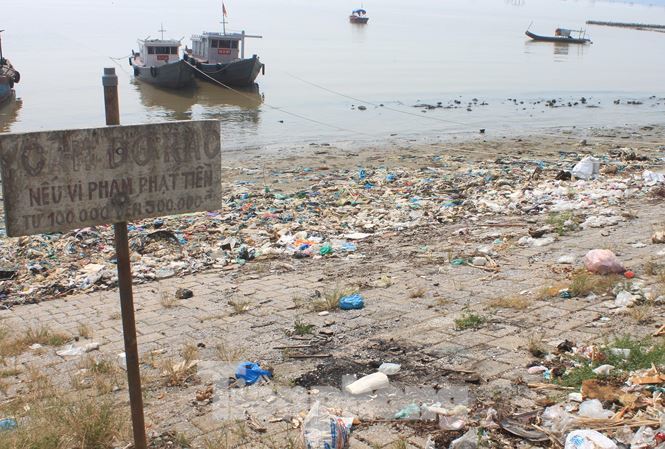 A coastal path in Hau Loc District heavily polluted
Among Nga Son, Quang Xuong and Hau Loc districts, where fishing activities are common, Hau Loc is the most polluted. Plastic bottles, plastic bags and household rubbish cover the nearly 4-km path from
Hai Loc to Da Loc commune.
The rubbish dump can be easily spotted in dense residential areas such as Diem Pho Market. Even the sea water in these areas also has a black colour. The rubbish at Diem Pho Market is often dumped
onto the embankment then swept into the sea.
The dumping area is only hundreds of metres away from the residential area. In Thang Loc Village, the foul smell from the rubbish and the smell from the sea make it unbearable for many people in the
summer.
"We have to pay VND10,000 per person per month for the environmental team to deal the rubbish. However, they can't collect all of it so the rest was dumped near the sea. There are a total of 400 fishing
boats and many near-shore fishing vessels threw rubbish into the sea after the market closed," said a fisherman.
Nguyen Van Ngu, chairman of Ngu Loc Commune, said they had over 3,300 households with 18,000 people but there were only 37 hectares of land. 80% of their residents are fishermen. About 12 tonnes of
rubbish is dumped in Ngu Loc Commune each day including plastic waste and metal waste that is hard to decompose.
The waste treatment costs in Hau Loc District are higher than other districts because it doesn't have a dumping site or waste treatment plant. The rubbish has to be brought to a plant which is tens of kilometres
away.
In order to prevent littering, Hau Loc authorities asked the provincial authorities to quickly build a local dumping site and waste treatment plant. They also asked the fishermen to have at least one rubbish bin
on their boats and the local people to sort the rubbish at home.
Tien Phong/Dtinews