Prime Minister Nguyen Xuan Phuc has asked the leaders of Hanoi to apply radical solutions to handle air pollution.
The environment indexes in the two largest cities, especially Hanoi, have been at an unhealthy level recently. The Ministry of Natural Resources and the Environment (MONRE) reported that PM2.5 dust in Hanoi is at a 5-year high and recommended that people restrict outdoor activities.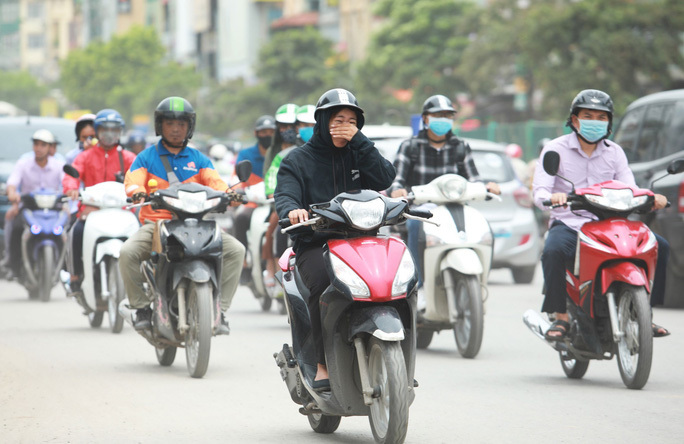 Phuc, at the government's regular meeting on October 2, asked the leaders of Hanoi to consider relocating factories out of the inner city, restrict private means of transport, control old vehicles, and develop green areas.

"There are too many multi-story buildings in Hanoi. On a section of Le Van Luong Road alone, there are up to 50 buildings," Phuc said.

He also cited the existence of too many private vehicles that leads to serious traffic congestion and huge emissions.

Prime Minister Nguyen Xuan Phuc has asked the leaders of Hanoi to apply radical solutions to handle air pollution.
According to Mai Trong Thai, head of the Hanoi Environment Protection Sub-department, there are 700,000 cars and more than 5 million motorbikes, including old ones that do not meet standards on emissions.

Le Huy Ba, lecturer at the HCM City University of Food Industry, said that it is difficult to solve air pollution as this is the dark side of urbanization and is larger caused by the rapid development of vehicles.

Vu Van Giap, Secretary General of the Vietnam Respiratory Society, said the smog and indexes on air pollution in Hanoi and HCM City have exceeded the permitted level under the World Health Organization's (WHO) standards. Air pollution affects people's health, especially those who are susceptible, including the elderly, pregnant women, children and people with respiratory and cardiovascular diseases.

Studies show that the frequency of patients hospitalized for respiratory and cardiovascular causes increases at times of extreme weather or high air pollution.

According to the United Nations Children's Fund, up to 600,000 children under 5 die each year from air pollution. In Vietnam, there are no official statistics but diseases related to air pollution have been increasing in recent years.

Experts noted that medical masks can be used in the infirmary, but they cannot prevent dust on streets. To limit this risk, people can use activated carbon masks with 2-3 layers and change masks several times a day.

According to the World Health Organization (WHO), air pollution is considered a silent killer. It is estimated that 30 percent of lung cancer deaths have relation to air pollution. Similarly, the rate of strokes as well as cardiovascular disease accounts for about 25 percent. Patients with respiratory illnesses are more affected with an estimated 43 pervent of deaths from respiratory illnesses related to air pollution.
Thien Nhien

Further measures are required to tackle the air pollution that has been plaguing HCM City in the last few days, authorities have admitted.

The declining demand for field-dried straw has triggered crop burning in Hanoi's outlying districts, leaving the city choking in haze.