The Ministry of Information and Communications' (MIC) announcement of the launch five local social networks in 2019, including the latest Lotus, shows Vietnam's desire of escaping Facebook's stranglehold.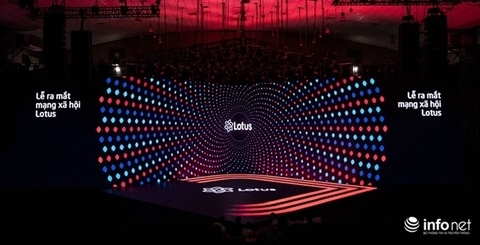 The launching ceremony of Lotus on September 16.
In the evening of September 16, the VND1.2 trillion ($52.17 million) social network Lotus run by VCCorp was officially put into operation.
Accordingly, the social network is the fruit of a co-operation among 500 content creators in various fields like education, lifestyle, and economics to create a "Made in Vietnam" product which is unique and different from other social networks as it focuses on content creators.
Lotus is also the third Vietnamese social network launched this year, following Hahalolo in June and Gapo in late July.
According to the MIC's plans, at least five local social networks will be launched in 2019. Currently, there are 455 licensed social networks, including 48 licensed in the first half of 2019.
Constantly licensing new social networks reflects the MIC's ambition of breaking the dominance of overseas social networks like Facebook.
Specifically, the ministry is targeting to catch up with Facebook in terms of the number of Vietnamese accounts by 2022, and to help Vietnamese social networks seize 60-70 per cent of the local advertising market.
Sharing the same ambition, Hahalolo's main goal was to reach 2 billion users by 2024 and challenged Facebook from the get-go. It is also planning a listing in the US in 2025.
Similarly, Gapo, with G-Capital's investment of VND500 billion ($21.74 million), targeted reaching 50 million users by 2021.
However, the social networks have been mired down in scandals since launch.
Specifically, Hahalolo has just been found running an unlicensed e-wallet business by the State Bank of Vietnam, while Gapo had to temporarily halt operations less than 12 hours after the launch as servers were overloaded.
BizTime was opened last year, was accused of copying Facebook's theme and design by users.
In fact, previous social networks that received a great deal of backing like Go.vn, Zing Me, Banbe.net, Tamtay.vn, or Yume.vn, had similar ambitions – only to quickly fade into near-oblivion.
According to digital experts, the reason behind their failure was their inability to truly set themselves apart from Facebook.
"The best way for "Made in Vietnam" social networks is to find a new direction of development, a direction where Facebook does not hold all the cards." VIR
Van Anh

The Vietnamese social network Lotus revealed its plan to attract 60 million users in Vietnam during its official launch in Hanoi last night.  

Lotus is believed to be a direct rival to Facebook in Vietnam, but it is still too early to say if it can defeat the giant.