Having previously settled in Canada, overseas Vietnamese Tran Ba Cuong John returned to Vietnam to help build the first automobile manufacturing project in Quang Nam Province in 2003.
More recently, nano-biological research lured him back to develop hi-tech solutions for the Vietnamese farming business.
Quang Nam debuts nano-tech shrimp farms
Stepping forward with high-tech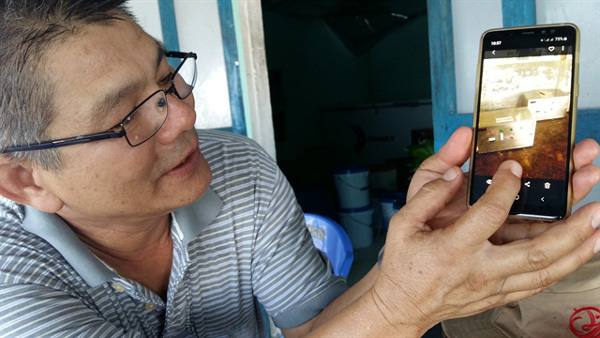 Vietnamese-Canadian engineer Tran Ba Cuong John shows a quality test on his smartphone at the shrimp farm in Thang Binh District's Binh Hai Commune. He has helped develop the first nano-tech shrimp farm in Vietnam.
Cuong, who got off to a successful start with his first hi-tech shrimp farming project in Ninh Thuan Province last year, expanded the application to a shrimp farm in Quang Nam Province's coastal Thang Binh District with the aim of developing nano-tech production chains for the area's coastal communities.
Cuong's QNTek Joint-Stock Company applied its technology on 6.5 hectares in Binh Hai Commune with a total investment of US$1.5 million. It was the first shrimp farm in the country to use a non-chemical antibiotic and water filtration re-circulation system.
Extracts from guava leaves, garlic and other natural antibiotic agents are mixed into the food to prevent the white-legged shrimp from becoming infected. These natural antibiotics help farmers reduce the use of chemical antibiotics and cut production costs. A bubble generator helps add dissolved oxygen to the water.
Cuong, who is QNTek's technology director, said the shrimp would be naturally healthy thanks to the higher oxygen content in water, allowing them to eat more than in typical conditions.

A view of a nano-tech shrimp farm in Quang Nam Province's Thang Binh District. VNS Photos Cong Thanh


Eight hours are needed to pump miniscule bubbles of oxygen into the water each day for rich oxygen content (96 per cent) for the shrimp to breathe well.

"This is a key factor that could help shrimp farms eliminate bacterial contamination, as high oxidisation will kill harmful bacteria in the water," Cuong said.
"Like humans, aquatic species can live well with clean water sources, fresh air and a rich environment, and micro-nano oxygen solutions are seen as a positive antibiotic that helps shrimp grow faster," he said.
The engineer said the closed water farm controls the quality of sea water it takes in with an ozone system.
Bio-engineers at the farm's laboratory frequently test the quality of the water, the shrimp and the micro algae to eliminate harmful factors that could lead to mass infection.
Cuong said the oxygen system could be used in cultivation, poultry and livestock breeding and fish conservation.
He said the nano-biotech application could help farmers earn a net profit of VND50,000 per kilo of exported white-legged shrimp.
Luu Luc, general director of QNTek, said the farm project was designed to produce nine tonnes of shrimp annually from each 1,000sq.m pool in the first stage of investment. The nano-tech application would be used to expand to 100ha of hi-tech shrimp farms in Thang Binh and Nui Thanh districts.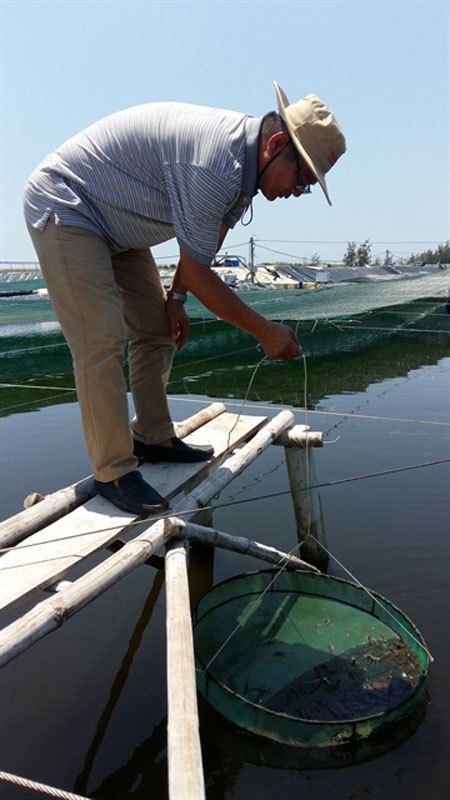 Tran Ba Cuong John checks on the shrimp at the farm in Thang Binh District. The farm could serve as a model for the mass development of a modern shrimp farming zone in central Vietnam.

A vice chairman of Quang Nam Province People's Committee, Le Tri Thanh, said the development of nano-tech shrimp farms would play a strategic role in building the coastal area into a production zone for export-quality shrimp products in central Vietnam.
"We recognise that most shrimp farms throughout the province were based on traditional practices and breeding experience from local farmers," Thanh said. "No hi-tech or scientific skills and knowledge were being used."
"It's risky when shrimp farms get infections en masse," he said. "Farmers can protect their shrimp farms with technology and nano-tech solutions for sustainable aquaculture in the near future."
Thanh said the project would be a model for the mass development of hi-tech farming chains as well as emerging aquaculture processing and food chain factories.
Representatives of Marubeni Vietnam have been co-operating with QNTek Joint-Stock Company to process and export white-legged shrimp to the Japanese market.
According to Quang Nam authorities, Japan and South Korea are two key export markets for the province's white-legged shrimp this year.
Quang Nam has developed 1,750ha of aquaculture, 1,350ha of which is used for white-legged shrimp farming with an average yield of 4.5 tonnes of shrimp per hectare and revenue of VND202 million (US$8,900) per hectare per year.
Earlier this year, the province also approved hi-tech farming and agriculture projects in Thang Binh District and the township of Dien Ban on 425 hectares of land with planned investment totalling VND5.4 trillion ($239 million) by 2024.
VNS