Deputy Prime Minister Vu Duc Dam spoke on January 6 at a conference reviewing 2020 and discussing implementation of tasks in 2021.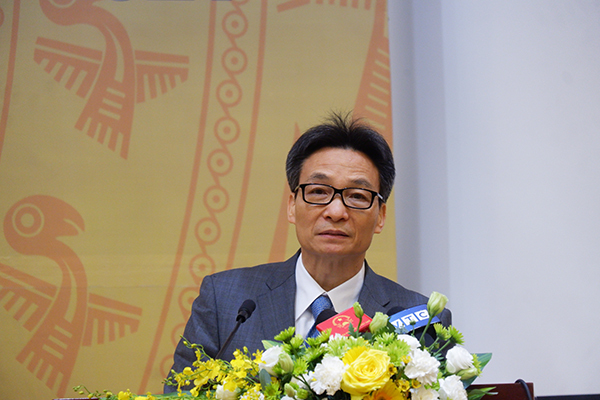 Deputy Prime Minister Vu Duc Dam at the conference
A report from the Ministry of Science and Technology (MST) presented at the conference showed that Vietnam in 2020 continued to be 42nd among 131 ranked countries and territories in the global creativity index (GCI).
MST in 2020 issued 895 Vietnamese standards, handled 68,971 applications for registering industrial ownership, and granted protection titles to 47,168 industrial property subjects.
Science and technology now makes up over 30 percent of added value in agricultural production, and 38 percent in plant seed and animal production.
The programs on national product development, hi-tech agriculture development, and conservation and sustainable use of genetic sources helped maintain export of key farm produce during Covid-19.
Many agricultural production enterprises have mastered high technologies, which allowed them to lower production costs and increase productivity.
In industrial production, Vietnam successfully made equipment, production lines and new materials that served manufacturing, mechanical engineering, energy, supporting industries, and agriculture.
In the field of medicine and pharmacy, MST mobilized experts, scientists and businesses to isolate and culture the coronavirus, and master the technology to manufacture SARS-CoV-2 test kits that meet international standards.
Nanocovax, the SARS-CoV-2 vaccine, is now being tested on volunteers.
Robots that disinfected floors in quarantine areas and delivered items were created and manufactured.
NaRoVid1 robot can automatically move and avoid all obstacles on its way. The device can easily move into every corner of the room, enabling it to clean and disinfect a wide variety of surfaces.
Another great achievement of Vietnam's science and technology in 2020 was the successful research in limb transplantation from brain-dead donors, intestinal transplantation from living donors, and surgery to separate conjoined twins.
Dam praised Vietnam 42nd ranking for the second consecutive year in GCI. Its innovative ecosystem ranked third in ASEAN.
In social sciences, MST organized many long-term scientific projects, including the compilation of Vietnam's National History (the draft of 30 volumes of the set of books has been completed) and Vietnam Encyclopedia.
In natural sciences, Vietnam for the first time set up two science research centers in mathematics and physics at the Vietnam Academy of Science and Technology sponsored by UNESCO (United Nations Educational Scientific and Cultural Organization) . As of 2017, only 98 centers around the world are named in the list.
Dam said there should be a policy to promote the development of science and technology, which would cover issues related to tax and business accounting. 
Ha Lan

Prime Minister Nguyen Xuan Phuc has asked the health sector to continue using drastic measures to tackle COVID-19 this year, particularly ahead of the Tet (Lunar New Year) celebrations and other important events.

Vietnam's health care sector is stepping up the use of artificial intelligence (AI) to improve service quality.