Two people have been detained for illegally buying and transporting a wild langur.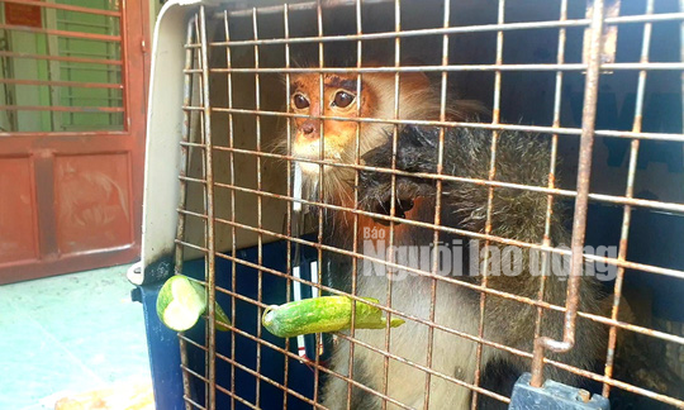 The wild langur illegally bought and transported
The police in Phu Loi Ward, HCM City, said on December 20 that they had completed the procedure to report the case and the violators to the city police and Binh Duong Forest Protection Department.

In the morning of December 20, the police and the anti-crime club's team in Phu Loi Ward were patrolling when they noticed two people were carrying a suspicious box on a motorbike. They pulled the motorbike over and discovered a live adult wild animal.

The violators are 27-year-old Trinh Dinh Nguyen and 15-year-old Tran Mau Kien from Dak Nong Province. They admitted to buying the langur online for VND1m.

The langur is kept in a small cage with weak health and in a frightened state.

Initial assessment shows that it may be a grey-shanked douc langur which is listed on the IUCN Red List as critically endangered. The police are investigating the case while trying to transfer the langur to the rescue centre.

The langur will be transferred to the Wildlife At Risk Organisation in Dau Tieng District. Dtinews

The central province of Quang Binh is seeking ways to protect a rare highly threatened kind of langur.