Used iPhone XS are available at many private shops in Vietnam at the surprisingly high price of VND19 million.
This is the price set for used iPhone XS 64 GB international version. The products are brought to Vietnam from the US and can be used as genuine products with all functions ready. Users in Vietnam can also use eSIM for the products.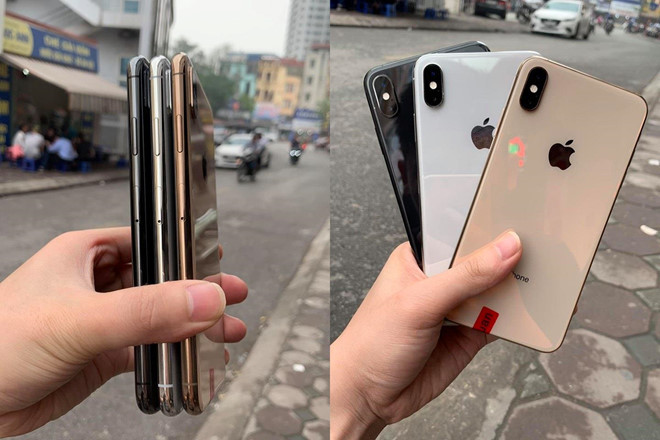 "If I have VND19 million, I would rather choose brand-new products of Apple or other manufacturers," said Bui Tu Anh, 24, an office worker in Dong Da district in Hanoi.
Anh's opinion is shared on iPhone fans' forum. However, private shop owners have their reasons to set the high price. The prices would be even higher by hundreds of thousand of dong, depending on the colors and the warranty policies applied by the shops.
Used iPhone XS are available at many private shops in Vietnam at the surprisingly high price of VND19 million.
The price is VND8 million lower than brand-new genuine products and VND3.5 million lower than brand-new products imported through unofficial channels.
Meanwhile, Nguyen Hoang Giang, the owner of a private shop on Nguyen Khang street in Hanoi, said he doesn't plan to sell used iPhone XRs.
"The cost price of used iPhone XS is relatively high. The demand for this expensive product is not high," he explained.
Nguyen Huy Tan, a media executive of a retail chain, said of the 2018 iPhone trio, XS is the least wanted device with sales by far lower than XS max and XR.
Also according to Tan, iPhone 7 Plus and iPhone X remain the bestsellers over the last six months. iPhone XS Max and XR are key products which bring the highest revenue to the chain.
Even in the iPhone officially distributed market, XS is not the model that can catch users' attention.
"The sales of iphone XS in particular and iPhone 2018 series are worse than predecessors," said Dang Thanh Phong from The Gioi Di Dong (Mobile World), the largest mobile phone distribution chain.
"These products have lost their appeal as they now have to compete with big rivals such as Samsung and Huawei," Phong said.
Among the products priced at VND19 million or so, used iPhone XS now has to compete directly with iPhone X from the same manufacturer. iPhone X has a design similar to XS and the performance is nearly the same.
VND19-20 million is enough to afford the highest-end Android models which have just been marketed, the Huawei P30 Pro and Samsung Galaxy S10.
While analysts say that iPhone has become less attractive, Vietnamese have shown interest in the next generations of iPhone. Sources said iPhone XR 2019 will have two more colors, providing more choices to clients.
RELATED NEWS
Used iPhone XR arrive but sales are slow
High-end smartphone prices drop in anticipation of new iPhone launch
Thanh Lich