Vietnam jumped five spots in the UPU's Integrated Index for Postal Development (2IPD) to rank in 45th place, with 51.79 points, among 172 countries and territories in the world.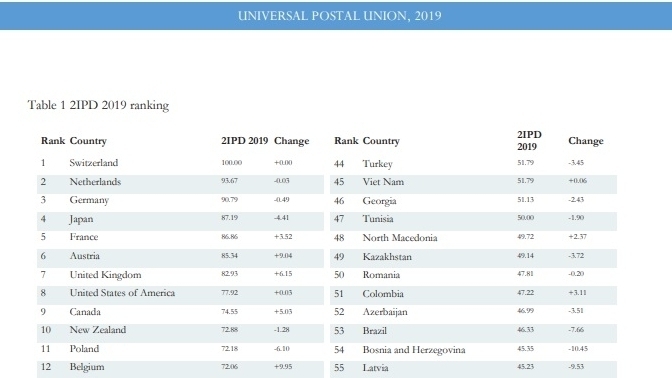 In Southeast Asia, Vietnam ranked fourth after Singapore, Thailand and Malaysia. Switzerland continues to top the ranking, followed by the Netherlands, Germany, Japan and France.
According to statistics of the Ministry of Information and Communications, Vietnam's postal market is now very active with the participation of about 400 enterprises.
Growth in this area has reached over 50% over the past few years. Total revenue of the postal industry reached about US$1.4 billion in 2018.
2IPD provides an overview of postal development around the globe. The results for 2019 cover 172 countries. The computation of the 2IPD stems from the integration of UPU postal big data – with over 22.9 billion tracking records since 2013 checked and analyzed –, official UPU statistics, and key UPU surveys.
This index offers a benchmark performance score (from 0 to 100) along four dimensions of postal development: reliability, reach, relevance and resilience.
In addition to revealing the relative performance of postal operators around the world, the 2IPD sheds light on how to foster postal development and maximize the efficiency of postal infrastructure. Nhan Dan