Vietnam is considered a responsible country in implementing international treaties on combating climate change, Deputy Minister of Natural Resources and Environment Le Cong Thanh has said.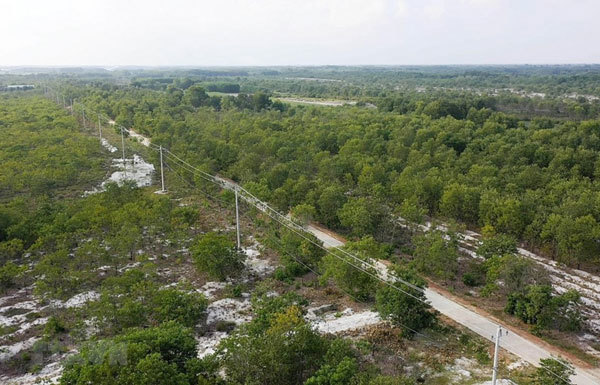 Vietnam is considered a responsible country in implementing international treaties on combating climate change. — VNA/VNS Photo: Ho Cau
The country has fulfilled the obligations of a member to various climate pacts, including United Nations Framework Convention on Climate Change (UNFCCC), the Kyoto Protocol, the Paris Agreement, the Vienna Convention, the Montreal Protocol and related revisions.
Speaking at a conference on multilateral and bilateral international treaties dealing with climate change on Wednesday, Thanh said the country has gradually built and completed a system of policies and guidelines to cope with climate change.
Within the framework of the Vietnam-Netherlands agreement on climate change adaptation and water management, the two countries have established a long-term bilateral co-operation framework. This has brought opportunities for exchange between State agencies, research institutes and the business communities of both countries.
The country, nevertheless, has shown shortcomings in implementing climate change treaties, which are often complex and incomplete, making it challenging to implement them in Vietnam.
He cited the UNFCCC as an example. The framework of the UNFCC was ratified back in 1992 but the details have yet to be clarified.
Resources for responding to climate change have not been monitored in accordance with the general provisions of the Paris Agreement. The use of resources for coping with climate change may affect resources for other socio-economic development activities, he said.
The Ministry of Natural Resources and Environment has suggested socio-economic development plans go with climate change responding policies, especially the 10-year Socio-Economic Development Strategy (2021-30) and the five-year Socio-Economic Development Plan (2021-25).
The ministry wants to prioritise the efficient use of funds for urgent projects to cope with climate change, and to set up separate expenditure for low emission and climate change adaptation in the State budget.
The ministry plans to work with other ministries and branches to update the Nationally Determined Contribution (NDC) report of Vietnam, which provides information on Vietnam's efforts in the emission reduction roadmap from 2021 onwards.
The Ministry of Planning and Investment will work with the ministries of Finance and Natural Resources and Environment to determine mechanisms and policies on implementing international commitments as well as urgent actions in responding to climate change.
Chairman of National Assembly's External Relations Committee Nguyen Van Giau said international climate pacts granted developing and climate change-affected countries like Vietnam the opportunities to access financial and technological support from other nations.
Giau suggested that the apparatus of climate change response of ministries, branches and localities should be improved. Dissemination work should be focused on to improve public awareness of climate change. — VNS
A workshop was held in the Mekong Delta city of Can Tho on October 7 to seek improvement of policies and legislation in response to climate change in Vietnam.

Politicians and diplomats meet in Spain as scientists and charities say urgent steps are needed.

To better respond to the negative effects of climate change, it is necessary to amend and supplement some articles of the 2014 Environmental Protection Law.