Vietnam lacks comprehensive studies on air pollution and its impacts on health, life and the economy, experts said at a conference in HCM City on Friday (April 19).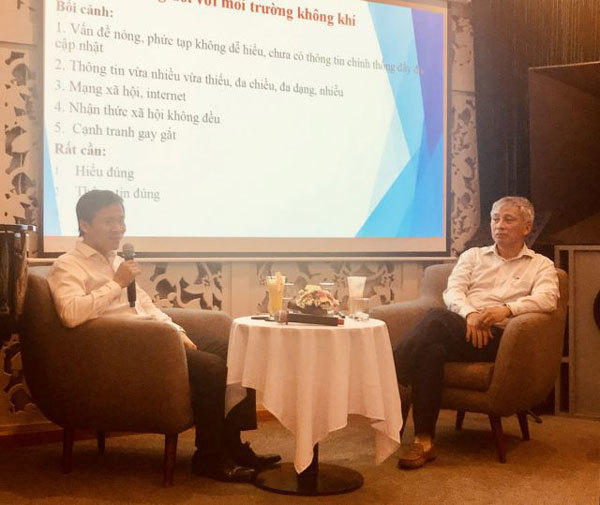 Speakers at a conference on air pollution in HCM City last Friday. -- VNS Photo Bo Xuan Hiep
Dr Ho Quoc Bang, head of the air pollution and climate change office at the Viet Nam National University's Institute for Environment and Natural Resources, said conducting studies on air pollution requires far more effort, time and advanced equipment than on water pollution.
There is a shortage of advanced equipment for monitoring air quality and a limited number of air monitoring stations in the country, he said.
"Scientific research on air pollution has not received adequate attention from scientists."
Air pollution in HCM City in particular is caused mainly by transport activities (50 per cent) and household activities (30 per cent), with only 20 per cent caused by industrial production, he said.
"Such research with specific figures on pollution levels as well as its impacts on people's lives and health could help authorities come up with practical solutions."
Dr Hoang Duong Tung, president of the Viet Nam Clean Air Network, said since the impact of air pollution is only evident over the long term, many people ignore it.
Air pollution regulations need to be made more stringent, he suggested.
Currently several different agencies are responsible for managing the sources of air pollution such as the ministries of construction, transport, and natural resources and environment, but there should be a single agency responsible for it, he said.
Bang, head of the air pollution and climate change office at the Viet Nam National University's Institute for Environment and Natural Resources, recommended that people should protect themselves by using masks that can keep out micro particles and avoiding polluted areas.
The cloth masks many people use are not adequate, he said.
Measures
HCM City has been carrying out a number of measures to minimise air pollution, according to its Sub-Department of Environmental Protection.
They include strengthening oversight and enforcement of laws on environmental protection and punishing violations by production, service and business establishments, industrial parks and industrial complexes.
The city is also implementing measures to reduce traffic congestion to reduce pollution caused by vehicles.
Le Viet Phu, an economist at Fulbright University Vietnam, said HCM City needs to diversify investment in energy production, shifting to cleaner sources such as solar energy and use energy-saving equipment.
City authorities need to establish an early warning system for air pollution to provide information to people living in high-risk areas, he said.
The economic losses due to early deaths caused by air pollution were equivalent to 5-7 per cent of Vietnam's GDP last year, or US$11.4-15.9 billion, with at least 40,000 people dying of diseases related to pollution, he said.
"The number of deaths caused by air pollution is four times the number due to traffic accidents, which is around 11,000 a year.
"It is estimated that the number of deaths annually due to air pollution will rise to over 100,000 by 2035."
Do Manh Cuong of the Ministry of Health's Health Environment Management Agency said the World Health Organisation (WHO) considers air pollution "a silent killer" in Vietnam.
According to statistics from WHO, air pollution is one of the highest causes of death in the world with around eight million people dying each year.
WHO data also shows that six out of the 10 diseases with the highest mortality rates in Vietnam are related to air pollution.
Vietnam's urban areas have various types of pollutants far exceeding permissible limits, especially major cities like HCM City and Hanoi, according to the Ministry of Natural Resources and Environment.
More than 42 people in 1,000 suffer from bronchitis and 69 complain of throat diseases, it added.
VNS
RELATED NEWS
Air pollution is the leading killer in Vietnam
Hanoi residents worry about air pollution